Kargil celebrates International Ali Day
By
Reach Ladakh Correspondent
KARGIL, Apr 16, 2018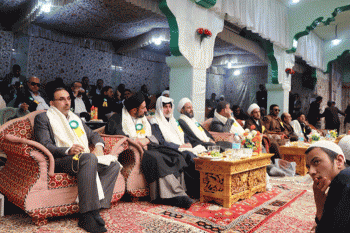 KARGIL :
As a part of International Ali Day celebration, three day long seminars was organised by Holy Shrine of Hazrat Abass AS in collaboration with Anjuman Jamiyatul Ullama Asna Ashriya Kargil on April 6 at Kargil.
More than 20,000 people paid obeisance to the Holy Flags (Alaam) of Hazrat Imam Hussain AS, Hazrat Abass AS and Hazrat Iamma Hassan Askari which were manifested as the part of the celebration.
Khuddam of Haram, Hazrat Abass Syed Aqeel Al Raees told that the teachings of Ali and his progeny is the solution for the peace and harmony in the society. He asked the people to follow the teachings of Hazrat Imam Ali for peace and harmony.
A three days book festival was also inaugurated during which the books were distributed free.
As part of the celebration special programme of Dua Kumail was also organized after evening prayers in the premises of Hozia during which Harame Hazrat Hassan Askari Qayssarsabah Zuhairi Al Mgadmee recited Dua Kumail.