Drikung Kyabgon Chetsang Rinpoche in Leh for 'Drikung Phowa Chenmo' teaching
By
Pal Thiksay Gobi
LEH, Jun 14, 2016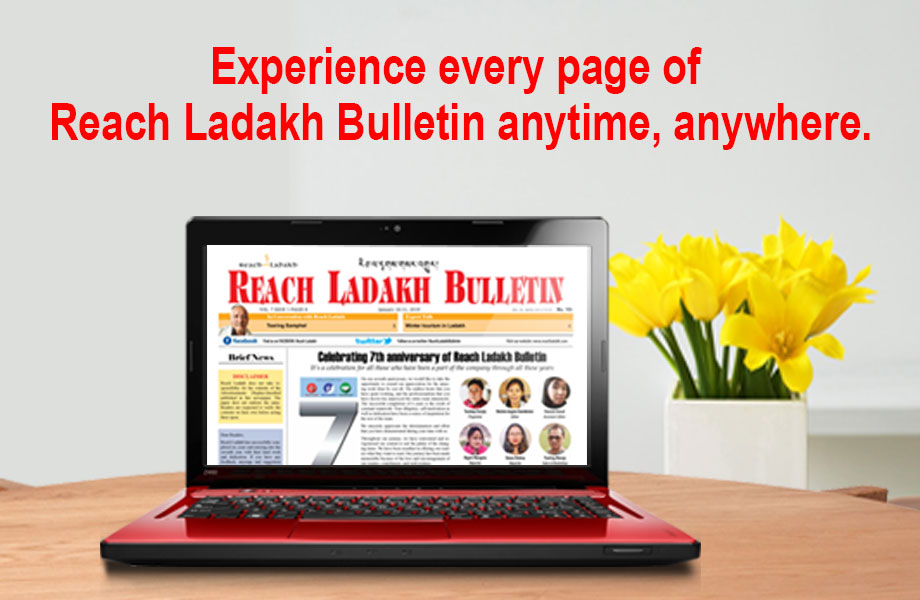 LEH :
People of Ladakh bestowed a grand traditional welcome to His Holiness Drikung Kyabgon Chetsang, Konchog Tenzin Kunsang Thrinle Lhundrup Rinpoche on May 5 in Leh.
His Holiness is the 37th throne holder of Drikung Kagyu Lineage and the 7th reincarnation of Chetsang Rinpoche is a manifestation of Chenrezig (Avalokiteshvara).
His Holiness arrived Leh and many schools student, societies and association with great enthusiasm and faith gathered all to welcome His Holiness. At first, His Holiness visited Chowkhang Vihara and later proceeded towards Phyang Gompa. A mandala was offered at Chowkhang Vihara.
Addressing the mass gathering, Drikung Kyabgon informed that World Environment Day is the most significant day for encouraging global awareness and action for the protection of our environment and it began in 1974 and has grown to become a worldwide platform for civic outreach that is widely celebrated all over.
He further stressed upon the need to have a consciousness about what we leave for the next generation.
However, in the name of individualism development; exploitation and pollution have started disturbing the environment adversely over the last few decades and it doesn't just influence our planet, it impacts all species, including mankind as well, said Chetsang Rinpoche.
Addressing on climate change he said man-made climate change has caused enormous environmental jeopardy, with the possible to cause human hardship like famine, scarcity, disease and deep inequality through the destruction of fragile ecosystems.
Tsewang Thinles President LBA informed that 140 villages in Ladakh have given their word for not using alcohol and non-veg on big occasion. And he further pleaded the followers to practice the teaching in their daily life.
His Holiness will be residing at Phyang Monastery during his stay in Ladakh.
Schedule of His Holiness Drikung Kyabgon Chetsang Rinpoche's preaching at Jivetsal Shey
10.00-10.30
10.30-12.30
Aspiring Bodhicitta vows (Monpa Semskit ki Domba)
Bar Seng
Aspiring Bodhicitta vows (Monpa Semskit ki Domba)
10.00-10.30
10.30-12.30
Engaging Bodhicitta vows (Jukpa Semskit ki Domba)
Bar Seng
Engaging Bodhicitta vows (Jukpa Semskit ki Domba)
10.00-10.30
10.30-12.30
Ultimate Bodhicitta vows (Ton Tam Semskit ki Domba)
Bar Seng
Ultimate Bodhicitta vows ( Ton Tam Semskit ki Domba)
09.00-10.00
10.00-12.30
Bar Seng
long life initiation according to the text of Dub thop thang stong gyalpo's text (Dub thop Thang stong Gyalpo lus ki Tsewang)