Delegation requests the Dalai Lama to visit Ladakh in summer
By
Reach Ladakh Correspondent
DHARAMSALA, Mar 15, 2018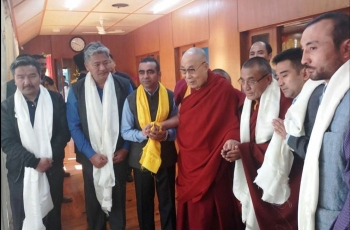 DHARAMSALA :
To request His Holiness Dalai Lama to visit Ladakh in the summer month, a delegation of Ladakh Buddhist Association (LBA) and All Ladakh Gonpa Association (LGA) met His Holiness on March 7 at Dharamsala, Himachal Pradesh.
The delegation was led by Tsewang Thinles, President, LBA, Ven. Shedup Chamba, President, LGA, PT Kunzang and Rinchen Namgyal, Vice Presidents, LBA, Sonam Dawa, General Secretary and Lobzang Stanba, CWC member.
The request letter to His Holiness read as, "At the outset, we on behalf of the entire people of Ladakh and the Himalayan region, express our heartfelt gratitude to your Holiness for the continued blessings we had in the past years with your visit and the teachings blessed to the people of this region. We request on behalf of the entire people of Ladakh to bless us once again this year with your summer sojourn in Leh and a few days teaching at Jivetsal. We assure your Holiness not to bother with any request for any site visits. We will ensure your Holiness for a complete rest and a peaceful summer sojourn in Ladakh."
His Holiness Dalai Lama assured that he will try his best to visit Ladakh.