135 students participate in excursion tour to Bodhgaya
By
Reach Ladakh Correspondent
BODHGAYA, Feb 02, 2018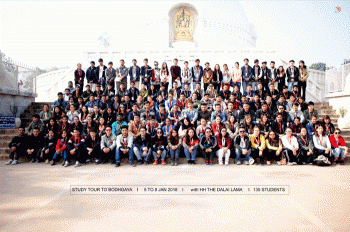 BODHGAYA :
The three days study program and excursion tour to Bodhgaya organized for the Indian by Nalanda Shiksha Committee and conducted by the Flowering Dharma from January 5 to 7 was concluded.
A total of 135 students hailing from Ladakh and other parts of India studying in various colleges and universities of Jammu, Chandigarh, and Delhi joined the excursion tour.
Tashi Namgyal, Director Flowering Dharma said, "The students were provided with an opportunity to attend the three-day talk on 'The Four Noble Truth' and 'Rice Seedling Sutra' by His Holiness the Dalai Lama and one-day excursion tour to Rajgir and Nalanda, on scholarship".
He informed, "The students were selected on the basis of their interest and reason which they filled out through an online registration form available at the website of Flowering Dharma.
Various student bodies were connected in coordinating with the participants including All Ladakh Students Union (Jammu), Ladakh Student Association (LSA) and Ladakh Student Welfare Society Delhi (LSWSD)."
The students also had the chance to be a part of the review sessions in the evening at the Root Institute for Wisdom Culture with Geshe Tenzin Namdak, who is the first westerner to receive a Geshe Degree.
In the course of these four-day events, the students were introduced to the meaning of various Nalanda Philosophical views and concepts including the concept of Emptiness of Objective Existence, Interdependence among others.
On the fourth day, the students visited the World Peace Pagoda and the Vulture Peak at the Rajgir and site of ancient Nalanda University where they were briefed about the history, importance, and relevance of the place by Ven Sonam Rigzen, a professor at the Nava Nalanda University.
In the three-day talk His Holiness the Dalai Lama encouraged the participants and students to learn and study the philosophy that rooted in ancient Nalanda University.
He also spoke how this tradition of Nalanda is Indian Tradition, which was born and flourished in the Indian soil and later spread to other parts of the world including Tibet, China, Mongolia, Japan, and others.
He spoke about the contributions of the various Nalanda Pandits (Masters) towards the development of the tradition which can benefit not only a particular community or group but the whole of humanity.