In conversation with Tsering Tashi, District Youth Services and Sports, Officer
By
Nawang Palkit
LEH, Jun 14, 2017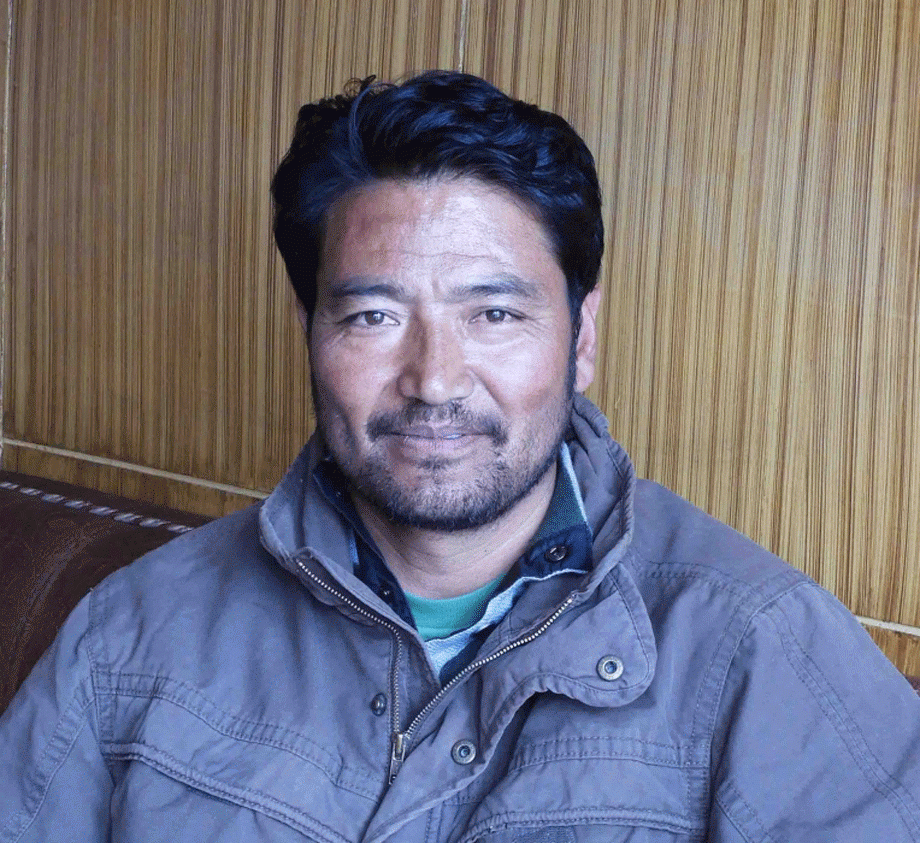 LEH :
Over the years many Ladakhi Players have represented India in various sports at National and International level. In this issue, we have Tsering Tashi, District Youth Services and Sports officer to talk about sports, its scope and their role to develop sports along with academics. 
He pursued P.G diploma in physical education from the University of Delhi. In 1999, he was appointed as Physical education teacher in High school Domkhar and in 2005, he served as Physical education master in Khaltse. In 2015, he served as Zonal Physical officer Khaltse. Presently, he is serving as District youth services and sports, Officer Leh.
Q. When was the department of youth services and sports established in Leh? What are its main role and functions?
Department youth services and sports came into existence on 27 July 1976 in Leh. Its main role and functions are to organise tournaments and sports competitions at the various block, district level in various games and sports for school children. We also promote sports infrastructures and activities in the district and block at the school level in various parts of the district.
We further promote and guide schoolchildren for participation and excellence in various sports activities. Competition and tournament are open to any school that is registered with the Department of youth services and sports. If the player represents the district or national level, we further assist in providing financial support for carrying out sports event.
Q. How is the scenario of sports in Ladakh? What kind of facilities are you providing to the sportspersons?
There is a tremendous improvement in sports and the availability of facilities as well. As we see that large numbers of the student from various schools of Leh districts are enthusiastically participating in every tournament and sports activities that we organise. Moreover, we can see students coming to the indoor hall for practising volleyball, basketball, archery etc. These days large number of students are showing interest in long-distance race like the marathon and the athletes. They are always seen practising along the roadside.
Nowadays, even parents are concerned about their children's participation in co-curricular activities. However, fewer students are dedicatedly aiming of making a career in the field of sports. 
In most of the government schools, there are no proper facilities. However, there is physical Education Master (PEM) and Physical Education Teacher (PET) in most of the government senior high school and high schools respectively. They cater the student in various sports activities.
Q. How many players have represented at a national and international level in various sports? Can you share the data with us?
Well, there is no student who has represented at international level. Following are the past three year's data of sportspersons who has represented in state and national level. 
At the national level: 
In 2015-16 Archery competitions, 16 Archers from Ladakh represented during 61th National School game in Ranchi Jharkhand.
In 2016-17 Archery competitions, 5 girls and 2 boys represented Ladakh in 62nd national school game Archery competition in Indoor. 
In 2016-17 Boxing competitions, 3 girls and 2 boys participated in 62nd national school game boxing competition in Gwalior, M.P
In 2015-16 Athletic competition, 2 girls under 17 represented Ladakh in National school game in Kerala Kozhikode. 
At state level, inter-district: 
In 2015-16 athletic competitions, 7 girls participated in state level inter-district Athletic in Srinagar. Our girls have secured the Gold medal in 800, 3000 and 6000 meters and Bronze in the long jump.
Our girls have also participated in 2015-16 volley competition in Leh. In the year of 2016, we represented Ladakh in Handball tournament in Udhampur and secured the third position.
Q. Even after representing India at so many levels, why there are no proper infrastructural facilities in Leh?
There are two reasons for not having proper infrastructural facilities in Ladakh.
First, previous government has constructed Indoor sports complex near NDS ground and open stadium near Airport which are very big projects. However, with the change in government, the present government has not carried out its further completion thus remained incomplete. 
Secondly, sports which need infrastructural facilities are given less importance by the government. If sports are considered significantly important, then there should be at least one proper stadium but we do not have even one.
Q. Do you think that sports are given less importance in our society? If yes, what is the reason behind it?
Well, it depends on the sport that we play, individual sports like archery are very famous in Ladakh. It has been playing over generations. Numbers of student and youth have represented even at national level competitions. Long distance race like Marathon is also getting famous in the region as large numbers of participations all over the world participate in Ladakh Marathon.
Students are enthusiastically into all kind of sports activities but we often have to face the problem with the absence of funds and proper facilities.
Q. What are the most common sports in Ladakh? What are you doing to promote it?
The most common sports in Ladakh are traditional archery, long distance race, volleyball, football, Volleyball, Kabaddi, Kho-Kho, Badminton and table tennis.
For its promotion, the department is organising tournaments of different sports categories at block levels and at district levels. We send the best player of various disciplines to inter-district state level and national level competitions.  With this, we are giving a huge platform to the student in Leh district.
Q. What kind of facilities are you providing to the sports persons of Ladakh?
Once the student represents the district in any sports discipline, we provide coaching facilities to them. Their transportation, boarding and lodging, refreshment facilities are provided by the department. Further, those who excel in the sport will be provided with coach and instructor from Sports Council & Sports Authority of India in various sports. 
In addition, from this year, we will be organising a talent hunt for a student in collaboration with the education department to identify the talent of the student in the sports field.
Q. What are the department schemes and funds available for players in Leh district?
The government has allocated schemes and funds at the district level to buy sports gear and organise sports activities among students. The government has allocated ₹20 lacs from its annual district budget plan.
To conduct tournament and any sports activities, the government will further provide separate fund as per the expenditure incurred. 
Q. Does the government provide enough support for the promotion of sports? Comment.
To promote sports and to facilitate the players, the government has developed NDS stadium in terms of levelling, spectator seat and construction of staircase off the footpath near the NDS entrance gate.  Indoor hall is open to everyone throughout the year, and the entry is free. Anyone can come and play sports like TT, volleyball and handball.
Q. Without any infrastructural facilities in Leh, do you think there is enough scope for the players in the field of sports? 
It depends upon the activities. There are better scope ahead for an individual sport like archery and marathon which do not need infrastructural facilities it can be practiced individually under the coach. 
However, sports like, volleyball, handball, football and kho-kho need to have good infrastructural facilities which we are lacking.
Q. How important is to give equal importance to sports as well as academics? 
No doubt, academic are always given more importance in our society but along with it, sports should also be given equal importance. Playing sports brings physical and mental fitness to the students. 
Students who are good in sports could further benefit by getting admitted in any college and university easily under sports quota. Hence, sports are equally important as academic.
Q. How many students have you identified who have excelled in the field of sports? 
Well, there are numbers of students who have done very well in the field of sports. In the year 2016-17, 36 students are selected for state and national level competitions. They will be playing in upcoming national school game.
Q. Is there any long term and short terms goals to promote sports?  Can you tell us about the department's plan for the year 2017?
In the month of May, we have organised a five-day long inter-school tournament for the high school of Leh, Chuchot, Kharu, Durbuk and Nyoma block. Further, in coming summer, we are going to organise talent hunt in collaboration with education department in archery and athlete discipline.
We will further organise cycling competition called "Cycling for All" with a motive to create awareness on clean and green Leh. Besides, the district and block level tournament will be held every year. 
Q How often do you organise sports competition among district or in other parts of the state to give exposures to the students?
We organise inter-school and inter-block tournament annually. The student from five blocks participates in the tournament. The tournament is alternatively organised in every block. The position holders will further participate in district level.
Q. Can you share the data of different sportsperson registered in different sports activities? 
A number of sports players are registered under state and national levels. There are 7 Archers and 5 boxers registered under the national level player. 17 boxers and 4 Table Tennis players are registered under state level player.
Message to the readers
Physical education and academics are two sides of the same coin. I request all the school students to pay equal importance to sports as well as academic. Knowing how to keep a balance between these two disciplines is a must.