In Conversation with Tsering Sandup, Executive Councillor, Tourism LAHDC Leh
By
Kunzang Chosdol
LEH, May 17, 2017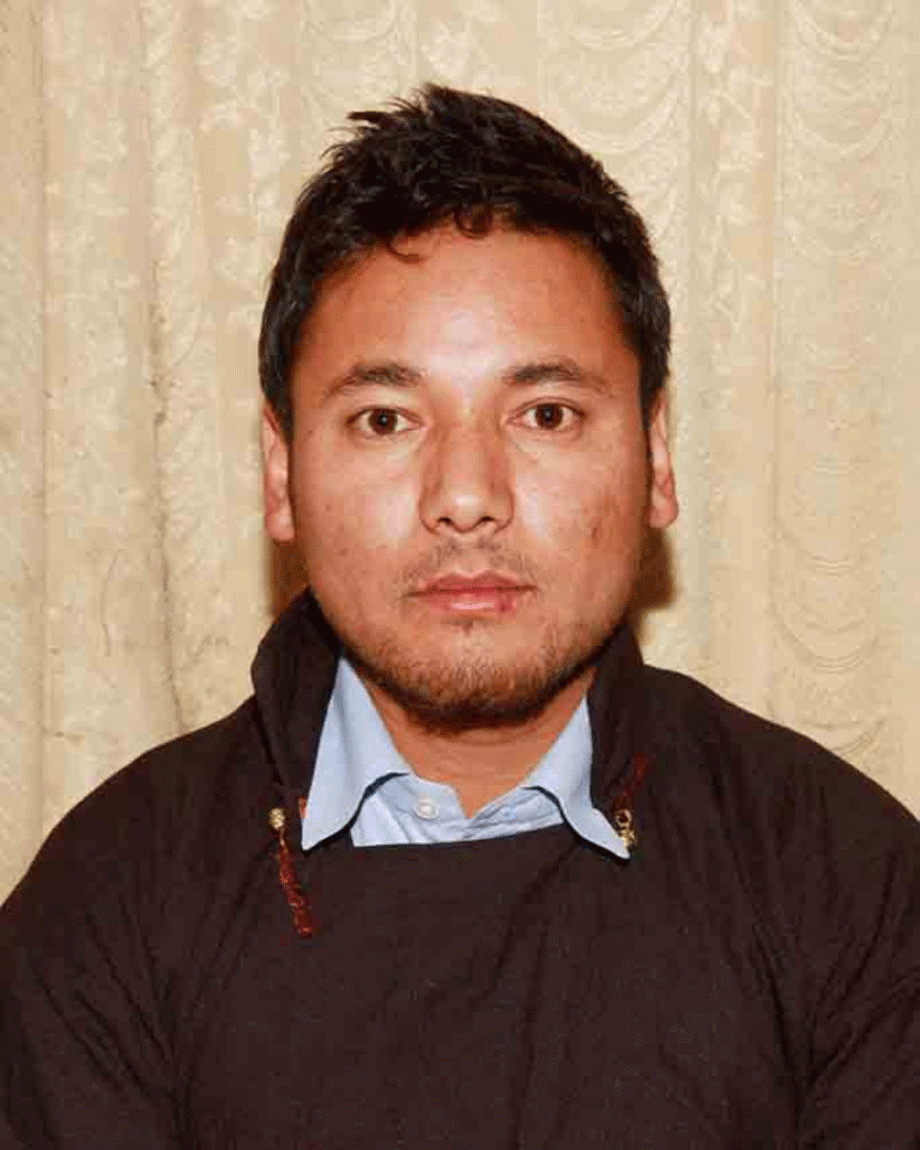 LEH :
The tourism sector is a booming industry in Ladakh and it is contributing towards the economy of Ladakh. Almost half of the populations are dependent on the tourism sector which is growing every year. The heavy influx of tourism is also creating a gap between the locals and its age-old tradition and culture. Tourism has definitely developed in the region but also poses a question on the sustainable development. 
To talk about tourism various plans and initiatives, in this issue we have EC- Tourism, Tsering Sandup who pursued MBA in Tourism and was elected as Councilor, Panamik Constituency and Executive Councillor for tourism in the 5th LAHDC, Leh election.
Q. Brief us about the present scenario of the tourism industry in Ladakh.
The tourism industry of Ladakh has been growing extremely and beyond expectation.  We are getting outnumbers of tourist annually. Tourism sector of Ladakh acts as the second source of income, agriculture being the first along with it. The hotels and guesthouses are growing along with the tourist influx which in turn serving as a job opportunity for many people of Ladakh.
We had 2, 35,698 tourist arrival in 2016 only and this year we are expecting more than last year. Winter tourism is also growing in Ladakh. If we compare the tourist arrival in the winter season, we have 1221 tourist in January 2016, whereas, in January 2017 we have 2482, here we can clearly see that the rate of tourist arrival is doubled.
Every year we are witnessing a growth in the winter tourism, following table shows the tourist influx in the year 2016 and 2017:
Months

2016

No of tourist Arrival

2017

No of tourist Arrival

January

1221

2582

February

733

903

March

728

1138

April

5977

6560

Total

8659

11183
Thus, we see the number of tourists is growing not only in the summer season but also in winter enabling the economy of Ladakh sustainable for the whole year.
Q. Tourism industry is growing in Ladakh; do we have that capacity and infrastructure to cater such mass tourism annually? 
Since its inception in 1974, the tourism in Ladakh has been increasing each year ranging from 30,000 to 40,000 till 2007. It was a time of quality tourism but after 2007 a drastic change was seen in the tourism sector. The shoots of Bollywood movies in Ladakh has attracted outnumbered domestic tourism in Ladakh.
Before the heavy influx of tourism, the importance of infrastructural development in Ladakh was never felt but with the pace of time Hill Council felt the importance to create infrastructure and facilities in order to handle the heavy influx of tourism.
With the sudden increase in the flow of tourism from thirty thousand to more than one Lakh in a year, it becomes hard to meet up the required facilities in a stipulated time because of the lack of enough fund.
As compared to the growth of tourism we don't have good infrastructure to cater them because of which it is leading towards degrading of the fragile eco-system of Ladakh in many ways. There is no tourism policy in Ladakh to check and control over the things related to tourism which is present in other states and countries.
Q. In the name of Leh beautification project, the town has been changing its face in the peak season of Tourist, how it is affecting the tourism industry?
Yes, it is true that due to the ongoing developmental activities in and around Leh town the tourist, as well as locals, are facing inconveniences at present, but in long term, we are going to have a properly planned town for tourist as well as for the locals. 
Actually, we don't have any option rather than commencing the work because if we leave it or extend it for next year than we are not going to get it completed. The work which is going on is for the proper drainage system. So, if we have proper STP or drainage system, the town will remain free from odours and have a clean one. It is better to have the patience to have an excellent town in future.  It will also help to reduce the water-borne disease which is caused by ill management of waste water in Leh.
This is the last year to complete the developmental work going on in Leh, after its completion we can have a good planned Leh which will attract more tourism. We can also see the present Leh market which has become the main hub for tourist. 
Recently, Leh city has been awarded for the cleanest city in J&K, if we get the town planning work completed, we can also become the cleanest city in India. 
Q. Do you have any plan to introduce the unexplored tourist destination and trekking routes in Ladakh? How many such places are there and what is on the list? 
Yes, we do have plans to introduce many of the unexplored tourist destination as well as trekking routes in Ladakh. Although, all parts of Ladakh have its own uniqueness and the exquisite natural beauty and landscape attract tourists. 
We have a plan to introduce theme-based tourism to Ladakh. For this year, we have two options, namely, rural tourism and nomadic tourism which are yet to be decided.
Kanji village is the best village for rural tourism. We get lots of feedback for the introduction of this village for tourism. It has full potential for its natural flora fauna and the traditional Ladakhi house which is a super place to attract rural tourism. We are planning to introduce it this year.
Secondly, we are planning to introduce the new trekking route from Tia-Tingmosgang to Lhargyab for Yak safari. So we are going to do everything in a phased manner. 
Q. Do we have any plan to introduce winter tourism in Ladakh? What are the potentials we have to promote winter tourism? What are the future plans?
In winter, we have a huge potential to attract tourism. We have several plans to promote winter tourism in Ladakh. Till today tourist visit to Ladakh in winter for Chadar trek and snow leopard only but there are many other things to introduce such as cycling on frozen Pangong Lake, Ice ski at Khardongla, Skou valley in Changthang etc.,  one by one we are going to introduce in the coming years.
Homestay in Ladakh is considered as the best method to promote our culture and tradition among the tourist but due to lack of training and facilities among the locals, it is preferred very less by the tourist. In order to promote it, we are going to identify some place and conduct training for home stay owners focusing on unemployment and to aware people about the way of service needed for a tourist.
Q. The airfare to Ladakh has been rising in the peak season does it affect the tourism industry?
Viewing the number of tourist arrival in peak season and in winter it seems that it doesn't affect them. Yes, maybe there are some who have budgeted tourism, for them, it can be affected. But overall it is greatly affecting the local people who move in and out Ladakh in this time.
Q. Since, there is a separate fund for the development of tourism in Ladakh, how these funds are being utilized and what is the upcoming plan?
There are three main sources from which we get fund, Centrally Sponsored Scheme, Leh Development Authority, and Environmental Fees. The environmental fee is something which is flexible or we can use it according to the needs at the ground level other two funds come under state and centre level which is totally used according to the plans.
Recently, under Swadesh Dharshan we got fund for development of wayside amenities in Leh to Khardong La and Leh to Manali road and we are going to develop it in this year. 
This year, we started a tourism policy through which the environmental fees can be spent on the overall development of tourism industry in Ladakh in a better way. Environmental fees are flexible which we can be used according to the immediate requirement for the development related to the tourism sector. A committee is formed through which we will spend as per the requirement. They will check the needs on the ground and accordingly they will decide where to spend the fund. This year we are going to spend ₹5.30 crores for tourism development out of the environmental fee which is divided into various programme such as wayside amenities, garbage disposal, protection of water resources, preservation and promotion of culture, rural tourism, homestay, exploring new destinations, trekking routes, building awareness and sensitization on eco-tourism among the people etc.
Q. The hotspot destination of tourist like Khardongla, Pangong Lake has no facilities of waste management and toilet facilities? Is there any plan to solve this issue?  
Yes, indeed it is necessary for such places to have proper toilet facilities. This year, we have planned to install a solid waste management disposal unit at various places and prepared DPRs for it. We are planning to install one each in Pangong Lake and Khardong la.
In addition, Indian Oil Cooperation Limited is going to construct an oxygen café and a souvenir shop at the K top and at 1or 2 km ahead of Khardong La top they are also going to construct Hi-tech toilet facilities.  This toilet will be properly equipped with modern technology to prevent the water from freezing, which will be functional throughout the season.
We are going to spend the environmental fees for any kind of requirement such as sanitation, wayside amenities etc. 
We have submitted a big project amounting up to ₹20-30 crores to the state government which is yet to be approved. Through this project, the infrastructural development related to tourism is going to be developed. It will cover almost all the areas in Ladakh where toilet facilities, solid waste management are needed in large numbers. 
Q. Brief us about the environmental fees? Where are these funds utilised?
An environmental fee is collected from each tourist visiting Ladakh to protect the fragile environment of Ladakh. And it is purely spending to protect the environment from degradation and demolition due to interferences of human activities specially tourism.
Now we have tourism policy and formed a committee who will look after the requirement in the field and accordingly will spend the environmental fees. More importantly, we are going to spend it on sanitation enabling the environment to maintain a naturally clean and beautiful landscape. 
Q. What you have to say about sustainable tourism in Ladakh?  Do we have any plans to promote quality tourism?
Tourist visits Ladakh to witness our unique culture, tradition and the naturally beautiful landscape, so we have to protect our traditional culture, its values and beautiful nature. But today we see that we are getting diverting from the original trend which is declining the pure culture and landscape.
Construction of buildings in large, changing the agricultural land into houses and commercial buildings and the careless nature towards age-old culture and tourism trend will not lead to sustainable development.
We are getting mass tourism these days which means they are not responsible and concern towards our nature and culture, but to retain sustainable tourism we have to care and protect it.
The main objective of tourism policy is based on how to promote quality tourism in Ladakh and to have sustainable tourism. 
We thirst on promoting rural tourism because only limited people of Ladakh is benefited by tourism today. So with an aim to benefit the tourism at ground level, we are focusing on rural tourism which sparsely distributes the traffic of tourism into a different destination and thereby benefiting every nook and corner of the society.
Along with it, we are focusing on organic farming and agricultural development in Ladakh so once it is successful we can have a sustainable as well as quality tourism in Ladakh.
Q. With the heavy influx of tourism we say that the age-old culture and tradition gets deteriorated. How far is it true? How can we preserve and promote culture and tradition along with the modernization?
Yes, that is true, in the past, we used to be self-sustainable and does not depend on other for everything but with the growth of tourism industry people are switching towards the sector which in turn affects the culture, heritage and tradition.
As the scope of tourism is largely seen in the urban area, people started migrating to urban and settle here for tourism based job leaving the agriculture-based job in the rural. The standard of living is becoming high leading to declining in traditional culture and heritage. So our aim on the promotion of rural tourism is mainly for this cause, if we adopt the rural tourism and distribute the tourist sparsely to all regions then the village people who have migrated to urban will go back to their native places and promote their own culture through rural tourism.
For example, the nomad of Changthang has been given up the nomadic way because they could not meet up their needs thus migrating to urban. If we spread the destination of tourism to all villages they will be benefitted from it and hence our tradition remains protected and promoted.
Message to the readers
"If we get huge tourism to Ladakh it's because of our unique culture, tradition and beautiful landscape. The need of the hour is to protect it and promote at all height in order to have sustainable tourism in Ladakh. If we keep on following the modern trend we are not going to have sustainable tourism. Our locally produce things and handicraft of Ladakh should be promoted and most importantly don't forget our inner values for which we are known for it."