In Conversation With Stanzin Dorjai (Gya)
By
Fatima Ashraf Barcha
LEH, Mar 15, 2016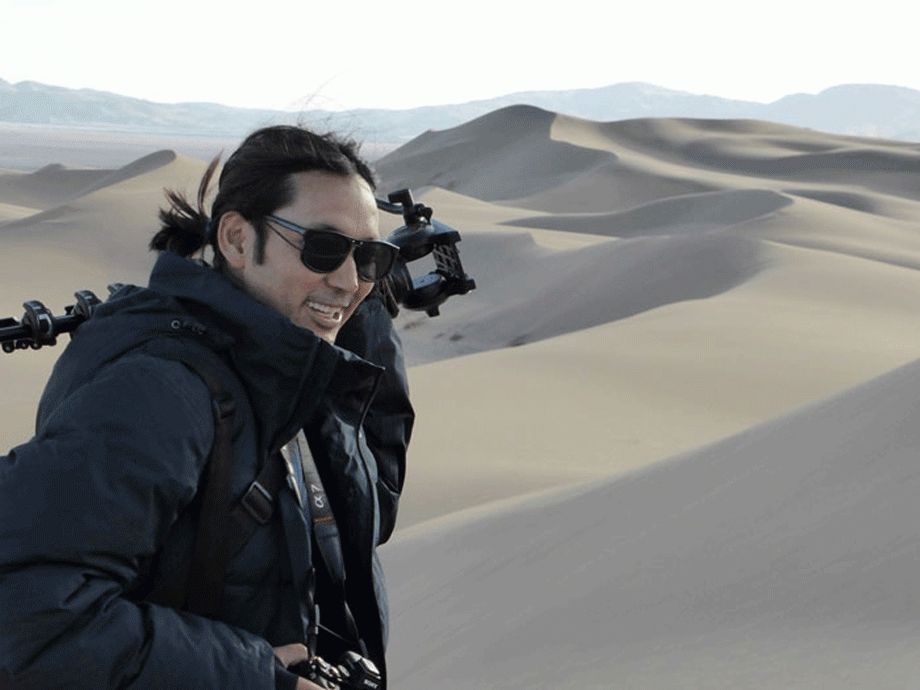 LEH :
Stanzin Dorjai from Gya made India and especially Ladakh proud when his documentary Jungwa-The Broken Balance based on the aftermath of August 2010 flash flood of Ladakh was selected among thousands to be shown in United Nation's COP 21 Paris Conference in 2015. Another documentary "The Shepherdess of Ice" released on 19th January also had a good response in European media. He is also attempting to make a film on Kushok Bakula Rinpoche's life.
The content of his films revolves around environment and culture. Sensitivity for the nature within me comes from what my late father, who was a farmer, taught me, "Everything in the nature is interdependent on one another, from the smallest insect in the soil to the largest bird in the sky, so never harm any living creature no matter how small",  he once said.
Stanzin Gya has become the first filmmaker from Ladakh who got successful recognition on International forums.  With appreciation from late CM Mufti Mohammad Sayeed, his work on Jungwa has been mentioned in national and European papers. All this he says is because of hard work with a good cause. 
Q. Tell us about your growing up years.
My father died when I was young and then our mother alone looked after me and my four old siblings. People in Gya are mostly farmer and shepherds. As a kid, I remember accompanying my elder sister to rear the sheep and goats in the lonely mountains of Gya. Side by side I also did my schooling till class 8th from a Govt. Middle School in my native village. I completed my high schools from Govt. Boys Higher Secondary School, Leh. It was here that I decided to join SECMOL and that is when my life took a fortunate turn. I complete my graduation in BA Arts from Jammu University. Having been the first in my village to have graduated my family expected that I would go for a Govt. Job with a steady salary. But by then I had developed the interest in filmmaking. When I told my family about it, they were disappointed and I did understand why. Filmmaking in Ladakh almost had no scope, but I nevertheless persisted with my decision.
Q. But how had this interest in filmmaking cultivated? 
At Secmol, I got to meet new people and experiment with new activities. At that time I was given a tape recorder to record something and then later in the evening was asked to play it like a radio. I was excited. I recorded my voice and then for the background music I took the advantage of the natural winds. The recording had turned out really well and everyone appreciated me especially  Mr. Sonam Wangchuk and Rebecca Norman. Likewise, we were also involved with many of the projects of Secmol that required us to interact with the local people. The villages did not have access to the visual media so what we would do is record the speeches and messages of the local leaders here in Leh and then show it to them. We always had a great response to visual media. Then, I realised that media is a very powerful tool to deliver messages. Many people who had known and worked with me had suggested that I have the creativity needed in electronic media. All of this led to the development of my interest in filmmaking.
Q. How important is it to have professionally studied filmmaking? Is it easy if one has not studied as such?
Completing one's education and having a degree is crucial, but, what is more, important is what you do with that much of education.  I, on the other hand, have not studied filmmaking because of my family's financial constraints but I had a lot of training and experience in this field. These training had first started under Secmol media unit then in national media units and later in European media houses. 
My mentors have been Mumbai based Director Rahul R. Randaive and Lars Lindstrom of Sweden who trained me with direction and technical aspect respectively of professional filmmaking. Then I have also been constantly supported and guided by Christian Mordelet, a French director. Possessing a degree and having professionally studied your field of work is always a plus point. But it all boils down to what the output of all that education is. 
Q. So now tell us about the experience of making your first film?
The first feature film that I was involved in was Tsondus released in 2000, directed by Tsetan Angchuk. I was the editor, executive producer and the cinematographer for that film. It was a successful film. Then in 2006, I had partnered with Tsering Zangpo and established our own studio called the Himalayan Film Studio.
The first movie that we made under HFS was the Ladakhi feature film called Migchoo in 2007. Making of the movie was difficult.  Initially, we did not have enough money to produce it so we had to take heavy loans. 
On the day of the release, our expectations were downtrodden as not many people turned up but the following day the movie had a great response. It was a huge encouragement to me. Apart from these, I have been a part of short documentaries related to the social issues like AIDS, Education and Religion in collaboration with NGOs and government. I also got an opportunity to direct, edit and script a documentary on climate change called Living with Change in 2008 under World Wide Fund for Nature (WWF). In the same year, I worked with Christian Mordelet, on her film Ladakh, Earth on the Mountain. In 2010, I worked for a documentary, Behind the Mirror with Christian again. And then in 2012 with my co-director Christiane Mordelet, we released Jungwa for International media houses that are Ushwaia TVs (France) and ARTE TV of Europe.
Q. "Jungwa- The Broken Balance", your documentary got selected for United Nation's COP21 and has also received many other awards. You have made Ladakh proud.
Well, it was a great opportunity to show Jungwa on such an International platform in the presence of the leaders and top representatives of all countries from around the world.  
It was shown as one of the main movies at the conference. I think that was a proud moment for Ladakh. "Lighting up of Himalayas", another documentary on LREDA's clean energy projects directed by me was also shown at the conference. People were impressed and extremely concerned about the impacts of climate change. Many did not even know where Ladakh is located.  It is high time that the world especially the developed countries realise that climate change is affecting, it will be too late if we cannot work to protect the environment. The outcome of this conference as we know has been considered one of the most positive conclusions. 
"Jungwa", at COP21, became like a messenger of what Ladakh and the Himalayan region have gone through due to climate change.
Q. Share your experience of making this documentary?
The movie is based on the August 2010 flash flood, the overall impact of climate change in Ladakh and local people's reaction to it. I remember looking out my window that morning and when I saw the flood, my first instinct was to grab my camera. My son called me out in his sleep and I just told my wife to leave for a safer ground. I feel guilty sometimes for leaving them that day, but I believe that your work sometimes does come before everything. 
Sometimes even before your family. When I started taking the footage of the aftermath, people resented me for not helping them like the rest by just standing there and shooting. But, my intentions were clear I wanted to show the world what we had gone through because of Climate Change, which the world at large had been ignoring. So I kept shooting and when I had collected enough clips, I approached many European TV and production houses. 
Initially, many rejected and I was heartbroken, but I did not lose hope and then finally Latosensu productions of France agreed to produce. I suppose they realise I was genuinely asking for their cooperation and help. They agreed and we worked together on the documentary. The final outcome was fruitful. It acclaimed many international awards before being selected for UN COP21. 
Q. How important is it for one to participate on such platforms?
It is really important to voice out our opinions and concerns, especially about the environmental and social issues. We know the students these days are getting a good education and have a lot of potentials. So they should look for the opportunities where they can participate in national and international conferences that keep taking place. They must indulge themselves in reading newspapers and staying up to date with the events of the world through media and internet. Doing such work i.e. research and making a documentary is very difficult but with hard work then the sky is the limit.
Q. Another documentary which has been lately released "The Shepherdess of Ice" is based on your sister, tell us about it?
Yes, it was released in Europe on 19th January this year. It had a very good response to international European TV ARTE and ZDF. The idea for this documentary came to me while working on Jungwa. I was in France travelling on a bullet train for the first time. I met these highly fashionable models and they struck a conversation with me. They asked me where I am from and so on. Then suddenly, I had a very strange intuitive feeling and remembered my sister. I compared her life to those three European women sitting in front of me. There and then I jotted my points and ideas for a new documentary. I spoke to my co-filmmaker Christian Modelet and she too agreed that the concept is good. When I came back to Ladakh,  I went to meet my sister in Gya. She is still working as a shepherdess and has never gone to school. She was taken aback when I told her that I wanted to make a film on her. She assumed that I was talking about an entertainment film. I stayed with her for a month and all my childhood memories with her came pouring down.
 When I asked her how she can possibly stay all by herself in these lonely mountains she replied she never felt lonely because she always listens to her radio while rearing the sheep. And you won't believe, it is amazing, the amount of knowledge she has about the world just because of the radio. She even understands words of English, Urdu, and Hindi and can even sing the traditional Ladakhi songs. So this movie is basically about her, her radio, her life as a shepherdess and especially about the original occupation of our people. 
I have always followed that one needs to keep improving one's work. My aim in this film has been exactly that kind of experience. For a filmmaker, before they work in a particular environment they have to be a part of it by living in it. That is how the real essence of the film comes about. I am also hoping that through this documentary quality tourism will revive in Ladakh.
Q. Do you have other upcoming projects?
Yes, I am trying to make a documentary on Kushok Bakula Rinpoche's life in Ladakh and his contributions internationally that many are unaware of. We know that he had been the Ambassador to Mongolia for nine years. Christian is my co-director for this film.  So we wanted to film about Rinpoche's contributions in Mongolia and other international contributions. The aim is to show that he was not only a reformer in Ladakh but also an international figure. Shooting for this documentary has been difficult because it is my first international film but the Mongolia Govt. and people have been very helpful. Simultaneously, I will need the help and cooperation of the Indian Govt. and Ladakhi people too, for which I am sure the response will be positive.
Q. Your genre of documentaries are on serious issues of environment and society. How impactful do you think such films are?
It is difficult to make a documentary that is of serious genre especially related to environmental and social issues. But, it is all the more important to make people aware and do something about things that are affecting our society. Also, these films will remain as a record for our future generations to see and ponder. Documentaries and films based on environmental protection and our traditional cultures are really important to record. These films will sensitise the people about how important it is to keep our environment safe and also because our society is a living example of communal harmony and peace, we need to promote that. 
Q. We also have the commercial mainstream movies growing in Ladakh. How do you think they have progressed?
We have made a lot of improvement in that sector. Though most of us have not studied filmmaking professionally, we have learned from experiences. The best thing about these films are that they contain the authentic language of our region. However, we need to constantly improve our content and technicality of filmmaking if we want a bigger audience. For which, we must organise a workshop on film or documentary making. Apart from all this, the Ladakh Media and Cultural Society (LMCS) need a lot of support from administration. A good hall to release and watch films is much needed. Piracy too has also been a huge setback for the filmmakers of Ladakh so strict actions against it must be taken care of.
Q. And finally what are your other plans?
Well, I have always wanted to stay rooted and contribute to my native village Gya. I have this concept of making it a 'Living Village' where people have good sustainable and standard life but at the same time proud of their occupation as farmer or shepherds. We have been involved in the construction of Solar Rebo and training Gya farmers in cultivation of cash crops. These are turning to be successful. We also sent 110 of our village women to Lahaul Spiti for an exposure tour and four of them to France. However, we do need the cooperation of the council constantly. This is how I want to stay connected with my people and give my contribution.
My goal as a filmmaker and in life is to contribute to the positive development of Ladakh. And to help others create their own cinematic visions here in this beautiful and unique part of the world that I am proud to call my home.