In conversation with Ravi Shankker (KAS), Assistant Regional Transport Officer, Leh
By
Rinchen Angmo Chumikchan
LEH, Apr 15, 2016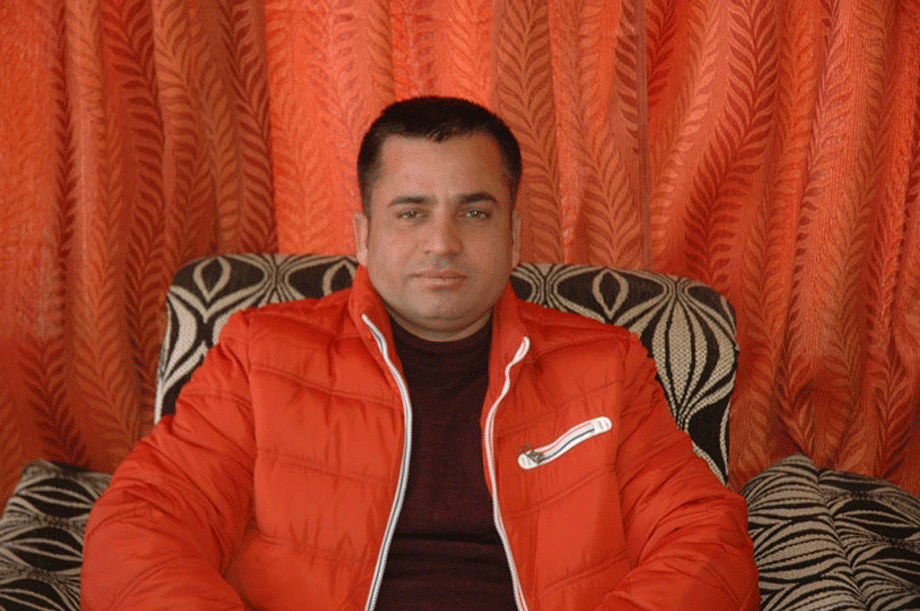 LEH :
Due to the rapid growth of the population and economy, there has been a significant rise in vehicular traffic that keeps roads busy in Ladakh. A total of 16,000 vehicles, including commercial and non-commercial, are registered with the Assistant Regional Transport Office, Leh. We talk to Ravi Shanker (KAS), Assistant Regional Transport Officer, Leh, on various issues including improvement in the existing traffic management system and how the demand for better transport system has increased in Leh.Q. When was ARTO established in Leh? What are the role and function of ARTO office?
In the year 1994, Motor Vehicle Department was Leh. Before that, it was controlled from Srinagar. A team from Srinagar used to come here once or twice a month and would collect all the papers from here and take them to Srinagar and then send them back to Leh after completion of work on them.
During those days, very few vehicles were there in Ladakh. At that time, the charge was given to SP, Leh. Today, whatever activities are related to transport comes under the RTO. It is a registering authority. Making registration certificate, to check vehicle fitness, to issue permits, to monitor pollution certificate and to monitor all the dealers come under the functions of the ARTO.
Q.  What are the new things that are coming up? What are the highlights of the efforts you are taking?
There are more than 30 departments in Leh but the ARTO is the first department we have digitised entirely so that people get quick service and in a transparent manner. We are starting a new version of Vahan 4.0 and Sarathi 4.0 which are online-based software applications for registration of vehicles and issuance of driving license which is aimed at improving the existing system in many ways. Due to some technical problem, Sarthi 4.0 is awaited.
Sarathi version 4.0, for the issuance of a driving license, offers online services for learner's license wherein applicants can apply for learner's license from any location.
In J&K, it was started in four districts- Phulwama, Reasi and two others. Leh is in the second phase and most probably it will be launched in 2016-17.
Q. So far, how many vehicles are registered in Leh? How the demand for transport has grown in Ladakh in the past years? How tough is it to keep the traffic going smooth?
From the establishment of ARTO office, Leh, about 16,000 vehicles are registered which includes 9,000 non-commercial and 7,000 commercial.
The demand for transportation has grown too much in Ladakh as compared to its population. Doda has 4 lakh populations and the total vehicle is roughly 10,000. But here in Ladakh, the population is over two lakh but more than 16,000 vehicles.  From this, you can guess how the demand has increased over time.
The problem of traffic congestion is only in the town areas and that too in the peak season. In the peripheries, you will not see much traffic. The city of Leh is small and the number of vehicles has increased dramatically. The third factor is that we don't have parking space, and fourthly, people want to park their car near shops for easy shopping. That leads to congestion on roads.
Q. When it comes to policies and regulations, the Government takes 'zero tolerance' approach on rule breakers. How about RTO, Leh?
Recently we held a meeting under the chairmanship of district police, Leh, regarding the traffic regulation in Leh town. We framed a new policy which will be implemented soon.  Being the registering authority, we are also keeping an eye on the rule breakers. This time we will be very strict. I have not seen habitual offenders in Leh and the drivers are cooperating.
Q. In many places the Government is exploring the introduction of strict parking policy. What about people who park their vehicle in wrong parking places where we often see traffic congestion?
First of all, we will create parking space for all so that a system will be set. After that, we will enforce the rules strictly, beginning this year.
Q. Recently, the Regional Transport Office (RTO) began digitisation of records of all vehicles, both commercial and private, registered with the RTO. What is the main motive behind that?
We call it High-Security Registration Plate (HSRP). One of the objectives is to provide fast service and in a transparent manner to the public. Secondly, to track down or locate the details of registered vehicles at the click of a mouse, we begin digitisation of records of all vehicles, both commercial and private, registered with the RTO.
An agency is hired to digitise all the vehicle records with RTO.
Digitisation of records will replace the old manual system and all the details regarding the vehicle and its owner will be available at the click of a mouse.
Q. How many vehicles have been digitised so far, both commercial and private?
It has been introduced recently. So far roughly 2, 000 vehicles are digitised.
Q. We have seen many overloaded trucks and tipper transporting things that had been posing a serious threat to life and traffic in the town. What steps are you taking towards such defaulters?
If we find such defaulters, we do on-spot offloading with such vehicles and the owner will be responsible. People will do illegal things in the night only. We are trying very hard to penalize them.
Q. Due to the growth of population and economy, there has been a significant rise in vehicular traffic that leads to snarling traffic. At busy junctions, it is worse as massive traffic jams take place. Comment.
During peak season, the traffic problem is there mainly in the city areas which are very limited. The main reason is wrong parking and for that, we have only one option: we will charge a fine to the vehicles and challan them.
After that, a message will be conveyed to the people and chances are that wrong parking cases will come down. At different places, we have deployed police officials to check. We are convincing people to use public transport. For this, moral support is a must. In short, people have to morally motivate themselves not to use their private cars for small things. It will not be successful until and unless the public and the controlling agent cooperate.
Q. But the question is public transport has stopped almost in all the villages in Ladakh? Is there any planning to restart public transport?
Right now we don't have any planning regarding that. When people come for stage carriage permit, we give them immediately. Public transport has failed due to the public because when we talk about public transport, 20-30 people can travel in one vehicle. On the other hand, taxis started operating and they don't have to wait for long. They will carry 5-6 people and continuously moving. So, to save their time, people started going in taxis rather than buses. So, automatically public transport system was a failure. People need to be motivated to use public transport and they have to have patience. Many things can be solved by using public transport.
Q. Annually, how many people apply for licenses? What are you doing to make more people opt for licence?
The annual data is around 6,000 people who apply for learning licence and out of them 3000-4000 get a permanent licence and the rest fail in the trial test. We are creating awareness among people; and the second thing is penalty. At the same time, we will motivate them to apply for licence. Next time, there are 99 % chances that they will come to apply for licence. Every year, we have a target to organise awareness programme and out of 50, we have done 20-30 programmes in different schools and in peripheries.
Q. What are the mandatory requirements for fitness certificate? How long the fitness certificate is valid?
There are 28 parameters. But we see 5-6 main things in the vehicle which includes brakes, tyres, horn, lighting system and sitting arrangements.
When we talk about fresh vehicles, for the first two years, there is no need to check for fitness. After that, there is an annual fitness certificate requirement for 15 years. From the  15th year to the 25th, we do it bi-annually. And after 25 years, no renewal is allowed.
Q. Can a vehicle fitness certificate be cancelled if the fitness certificate is valid but the vehicle is not safe & sound?
Yes, it can be done. You have to maintain your vehicle fit throughout the year in safe and sound condition.
Q. Why is pollution check mandatory?
Keeping in mind the increasing pollution and its impact on global warming, such a measure becomes a must for a safer world. Pollution check will be mandatory and there will be no compromise on it. The minimum fine is ₹ 1000.
Q. Most of the road accidents in Leh is due to drunken driving? When are you going to get breadth analysers in Leh?
We have already sent our demand for breathe analysers. This problem is not only in Leh but throughout the country. We cannot stop this until alcohol is banned. Most of the crimes, be it social or related to vehicles, happen because of alcohol.
Q. The Present Hill Council is focussing on making Ladakh free of corruption? What are you doing to ensure transparency in your department?
If corruption cases happen, bring them to our notice. 
Message to the readers
I request all those who are above 18 to apply for licence. Don't drive without a licence. For drivers, I would like to say, follow traffic rules and please don't drive without complete documents.
Document required for registration of vehicle commercial/non-commercial:
1. FORM 20
2. Police Verification
3. Dealer confirmation 
4. PRC copy
5. Insurance Copy
6. Affidavit
DOCUMENT For Fresh Permit
1. PRC Copy 
2. Affidavit
3. Unemployed Certificate
4. Character Certificate
Documents required for Renewal of Route Permit
1. Renewal Form 
2. Insurance Copy 
3. RC/FC/Pollution Copy
4. Bank NOC
5. Alive Certificate
Documents required for Licence Renewal
1. Licence Renewal Form
2. Medical Certificate
Documents required for Learner Licence
1. Form 2
2. Medical certificate
3. Date of Birth
4. PRC Copy
5. Character Certificate