In conversation with ISRO, Scientist Tsering Tashi
By
Rinchen Angmo Chumikchan
LEH, Mar 07, 2017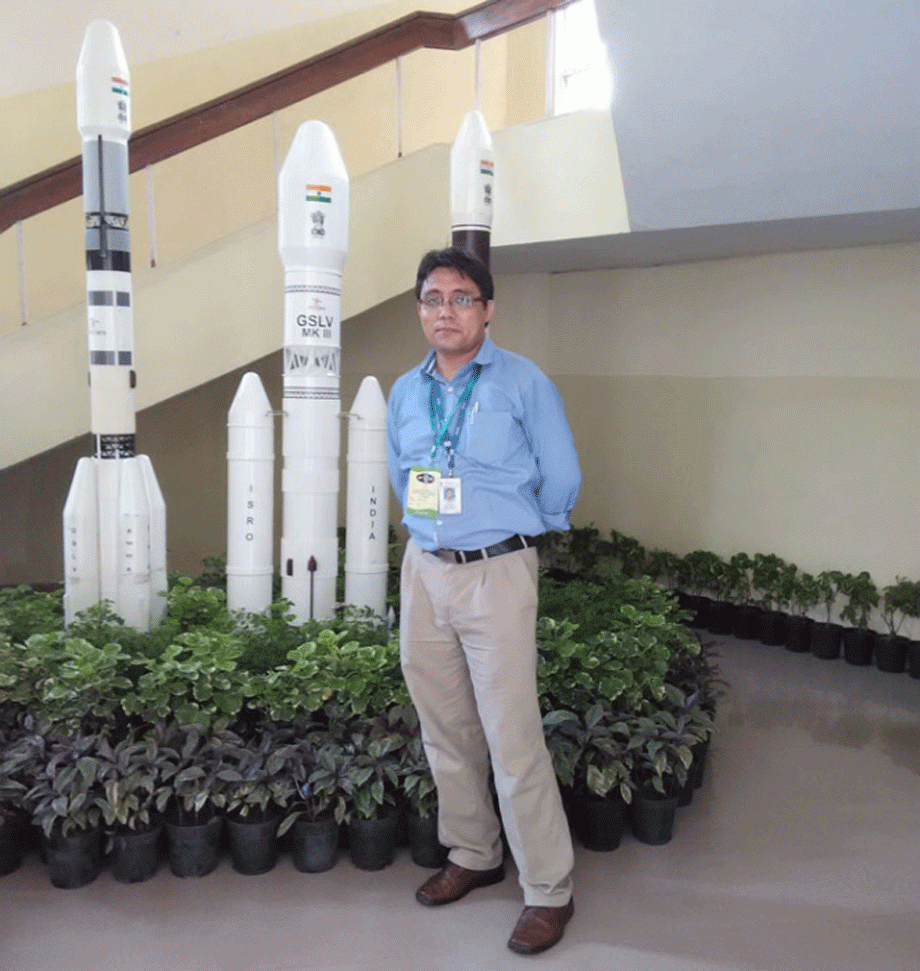 LEH :
Tsering Tashi got selected to the post of Scientist/Engineer in ISRO in the year 2002. He holds a Diploma in Computer Science. He did his masters in Satellite Navigation from Politecnico Di Torino, Turin, Italy in 2010 under United Nations fellowship programme. 
Before joining ISRO he also served with LREDA, PDD and IAO, Hanle for a short period.He is the first ISRO scientist from Ladakh. Presently he is working in the field of Satellite Navigation Programme at ISRO Satellite Centre, Bangalore.
 Q.Tell us about yourself?
Jullay!!First of all, I would like to thank 'Reach Ladakh' for giving me an opportunity to share my experience. Well, I belong to Matho village, a beautiful village around 25 km from Leh. I was fortunate enough to spend my childhood there with my parents, siblings, friends and studied with fun and joy up to class 8th in Govt School Matho. Then had to walk up & down around 12 km to complete my class 9th & 10th standard from Govt. High School, Chuchot Gongma. I moved to Leh city to study 11th & 12th standard from Govt. Boys Hr. Sec. School, Leh. I acquired Bachelors in Electrical Engineering from Govt. College of Engineering and Technology, Jammu in 1999. I also did Diploma in Computer Science. For a short period, I worked in LREDA, PDD, and IAO-IIA.  In 2002, I got selected to post of Scientist/Engineer in ISRO. I was so delighted to get a job in my dream organization, so is the challenges ahead. I did Masters in Satellite Navigation from Politecnico Di Torino, Turin, Italy in 2010 under United Nations fellowship programme. Presently I am working in the field of Satellite Navigation Programme at ISRO Satellite Centre, Bangalore. 
Q.You have completed your schooling from Govt School. Did it bring any obstacle in your career?   
In fact, I am proud to be a product of Govt. School. The teachers were very good, humble and they tried their best to impart us the best of education they could provide with the limited infrastructure. Of course, in 1980-90s it was not so easy for Govt. School students to come up and compete with other comparatively better schools counterparts. The main reason was the English used to be taught from 5th standard, we were compelled to study the main subjects in Urdu (alien language for us ) up to 8th standard. The Science, Maths was taught in English at the 9th standard level only. My teachers and parents always encouraged me and they have supported me at every stage during my school days. I was always among the topper list up to 12th standard. My teachers and parents are the pillars of my success.  
Q.What inspires you to join ISRO when we hardly have knowledge about the different career prospects?
I came to know about ISRO during my final year of engineering. The fascinating projects, harnessing space technology for national development, technical challenges, space science research, planetary exploration, excellent work culture and the vision of eminent scientists such as Dr. Vikram Sarabai, Dr. APJ Abdul Kalam etc had inspired me to dream about ISRO. The books written by Late Dr. APJ Abdul Kalam 'Wings of Fire' & 'Ignited Minds' has further affirmed my desire to work in ISRO. When the opportunity knocked at my door I overwhelmingly accepted the offer.  
Q.You are the first ISRO Scientist from Ladakh who is working with such a prestigious organisation. How and when did you start your journey with ISRO?  What is your main contribution in ISRO's research programmes?
'God helps those who help themselves', I was a very hardworking and obedient student since childhood. I had a dream to achieve something big in my life. My hard work paid me when I got selected in ISRO in 2002. I was recruited by ISRO headquarters.  The interviewer asked me a personal question, 'Are you ready to work anywhere in India? You may not get a chance to work in your hometown'. I said a big YES.  I felt I should chase my dream.  
Initially, I was posted at North Eastern-Space Applications Centre (NE-SAC), Shillong and served up to 2005. I worked in the area of SATCOM application projects such as Telemedicine, EDUSAT project, Disaster communication systems etc. 
In 2006, I moved to ISRO Satellite Centre, Bangalore. I got an opportunity to work in GAGAN (TDS) testing.  Since June 2006, I am associated with NAVIC/IRNSS project. I am a part of the core team responsible for the realization of IRNSS project. Many new technologies for space, ground and users segments have been developed indigenously by team IRNSS. I have contributed in the field of system engineering, simulation, realization, testing & evaluation of various segments of IRNSS system. All 7 satellites have been launched successfully. I held the functional position of Project Manager in IRNSS project. Presently I am the Head of 'GNSS Signal Analysis Section' under Satellite Navigation Programme.
Q.Could you elaborate briefly about NAVIC/IRNSS, GAGAN, EDUSAT, Telemedicine systems and its benefit to the society?  
1. NAVI / IRNSS: Indian Regional Navigation Satellite System (IRNSS) / NAVigation with Indian Constellation (NAVIC) is an ISRO's initiative to design and develop an independent satellite-based navigation system to provide positioning, navigation and timing (PNT) services for users over Indian land mass and region upto 1500Km from Indian geopolitical boundary. The system is designed with a constellation of 7 spacecraft and a complex network of ground systems. All the seven satellites (IRNSS-1A,1B,1C,1D,1E,1F&1G) were launched successfully using PSLV launcher. It is a giant leap in the self-reliance in the field of navigation in the civilian and national critical applications. I am very proud to be a part of team IRNSS/NAVIC.
2. GAGAN: GPS Aided GEO Augmented Navigation (GAGAN) is Satellite-Based Augmentation System (SBAS) for aircraft navigation in Indian airspace. It uses GPS satellites and correction messages are sent through ISRO satellites. It is used for safety-of-life civil aviation applications. All phases of flight, from en route through approach for all qualified airports within the Indian airspace.  DGCA has certified GAGAN for APV-1 precision service. It means that an aircraft can land using GAGAN navigation & guidance upto as low as 250ft without ground visibility. GAGAN system is operational. Once AAI does the procedure for Leh airport, we need not worry about frequent flight cancellation due to cloudy weather & poor visibility.  GAGAN will navigate the aircraft for landing upto APV-1 level. GAGAN can also be used for non-safety of life applications in civilian and strategic fields.
3. EDUSAT: Tele-education delivers interactive education using one-way broadcast, web-based instructions, video conferencing etc. Its objectives is to supplement the curriculum-based teaching, imparting effective teacher training, providing access to quality resource persons, thus taking education to every nook and corner of the country. It provides connectivity to schools, colleges and higher levels of education. The system consists of Satellite Interactive Terminals (SITs) and Receive Only Terminals (ROTs). I was involved in the establishment of Tele-education systems in North Eastern region. ISRO has established more than 80 networks connecting to around 56,000 schools and 56,000 colleges all over India. I understand few such systems are established in Ladakh.
4. Telemedicine: It is a unique application of space technology for societal benefit. It connects remote hospitals through ISRO satellites to major specialty hospitals in cities. Patient at remote end can get the medical consultation and specialist opinion from specialty hospital. ISRO provides telemedicine systems, communication equipment, and satellite bandwidth. The respective State Govt. remote hospital runs the system. I was involved in the establishment of Telemedicine centres in North Eastern region. I understand few systems are established in Ladakh as well. More than 300 remote hospitals are connected with around 60 specialty hospitals all over India. 
Q.What are the challenges in the realization of NAVIC/ IRNSS projects? Why it is important for India and what are its applications?
As I said earlier, IRNSS consists of constellation of 7 satellites and associated ground systems. All the 7 satellites were launched successfully using PSLV launch vehicle. It provides two types of services (a) Standard positioning Service-SPS for civilian users and (b) Restricted Service-RS with encryption for authorized national critical applications. ISRO has the competence in making satellites and launch vehicle, but the design and development of complex navigation system was first-time taken-up by ISRO. Many new technologies for space, ground and users segments have been developed indigenously by NAVIC team such as the use of Atomic clock in space, Laser retro reflector & ranging, navigation software, ranging codes, signal modulations, precise timing system, user receivers, complex mission software & management and many more. It is a team ISRO's achievement. We could accomplish the mission due to dedication and determination of each and every person involved in the project. Believe me, we have an excellent teamwork spirit. I am very much thankful for my senior colleagues for their support, encouragement, and guidance. I would like to thank ISRO management for giving me the opportunity to contribute to such prestigious programmes. My family has always supported and encouraged me. Thank you all.
The major is navigation system are (a) GPS (Global Positioning System) is own and operated by US Dept. of Defence; (b) GLONASS is by Russian ministry of .; (c) GALILEO of European Union; (d) COMPASS of China. Present, GPS/GLONASS is widely used in both civilian and strategic applications in India. GPS/GLONASS service can be denied, spoofed and mislead. It has a major implication on the socio-economic development and security of the country. So there is a need to have an independent navigation system of our own and under Indian control. IRNSS will provide independent and self-reliant services navigation services over the service area.
IRNSS can be used for many applications such as surveying, geodesy, mapping, urban/town/smart city planning, fleet management, intelligent transport system, railway navigation & collision avoidance, maritime navigation, telecom industry, power grid synchronization, timing services, banking, location-based service, disaster warning & management,  monitoring the health of tall buildings/towers/long bridges, GIS (geographical information system), car navigation, mobile/ personal navigation, tourism & hiking, traffic management, natural resource & land measurements, precision agriculture, scientific studies, geodynamics, positioning for spacecraft, national critical applications (like defense etc) and many more.
Q. Can you throw some light on main activities of Indian Space programme and its benefits to the common man?
It is difficult for me to narrate the achievements of ISRO and also I am not in an official position to speak. However, for the benefit to the student & youth community, I would like to share some of the following programmes and its benefits to the socio-economic development of India.
1.Communication satellite: ISRO has launched more than 30 communication satellites (INSAT & GSAT series) providing more than 200 transponders in C, Ext. C & Ku bands. It has diverse applications in the field of Television, DTH, satellite newsgathering, Satellite Earth Stations (BSNL/Govt./PSU/Commercial user etc), VSAT(ATM/Banking/Business networks etc), Digital Satellite Phone Terminal, Mobile satellite service, Radio Networking (AIR stations etc),  Village Resource Centres (VRCs), Satellite Aided Search and Rescue, Disaster management support and many more.
2.Meteorological Satellites: Meteorological payload onboard satellites (KALPANA, INSATs) help in weather forecasting, cyclone tracking, early warning dissemination etc. Indian Meteorological Department is the primary user of meteorological data.
3.Remote Sensing Satellites: India has the largest number of Remote Sensing satellites such as IRSs, RESOURCESATs, OCEANSATs, CARTOSATs, RISATs, TES, IMS etc. All these satellites are used for earth observation and natural resource management. Some of the applications of these satellites are in the area of  land use/land cover, land degradation, water erosion, wetlands inventory & assessment, vegetation, snow and glacier studies, glacier depletion monitoring, environmental planning, watershed management, mineral and groundwater exploration, groundwater prospects zone, applied geological investigations, hydrology, soil conservation, wildlife support, biodiversity & environmental protection, resource depletion, biodiversity characterisation, sericulture, coastal zones studies, potential fishing zone identification, forestry, crop forecasting & analysis, integrated land & water resources management, wasteland mapping & monitoring, global warming effects and climate change and many more.
4.Disaster Management Support Programme: Communication, meteorological, earth observation satellites, aerial survey etc are the observation systems for disaster management. ISRO is engaged in monitoring natural disasters such as flood, cyclone, agricultural drought, landslides, earthquakes, forest fires etc. Satellite imagery helps in all the phases of disaster management such as preparedness, early warning, response, relief, rehabilitation, recovery, and mitigation.
5.Climate and Environment: ISRO has deployed various system such as Automatic weather stations, Doppler weather radar, Agro metrological towers etc to monitor weather parameters such as pressure, temperature, humidity, rainfall, wind speed, wind direction, radiation, soil temperature, soil moisture, soil heat, cyclone, heavy rainfall, aerosols etc. Geostationary and Polar orbiting satellites (INSATs, IRSs, Megha-Tropics etc) are pursuing climate change research with a focus on specific indicators like glacier melt, desertification, land use and land cover change, aerosols etc.
6.Navigation Programme (GAGAN, IRNSS/NAVIC), Tele-education, Tele-medicine are covered in my earlier answer.
7.Space Science and Exploration: Many science mission accomplished by ISRO are various scientific payload onboard INSAT satellites; Chandrayaan-1 India's first mission to Moon; MOM-Mars Orbiter Mission is ISRO's first interplanetary mission to planet Mars; ASTROSAT is the first Indian astronomy mission in space etc. 
8.Launch Vehicle Programme: It started with SLV (Satellite Launch vehicle) & ASLV (Augmented Satellite Launch Vehicle. Late Dr. APJ Abdul Kalam was the project director for SLV & ASLV. Polar Satellite Launch Vehicle (PSLV) is the workhorse rocket of ISRO. It can launch a satellite of mass 1425kg in GTO orbit. Geosynchronous Satellite Launch Vehicle (GSLV) can launch a satellite of mass 2500kg in GTO orbit. 
Q.How space technology can be used in the development of Ladakh. Are there any ongoing projects related to the use of space technology in Ladakh?
There are some areas where the space-based technology is being used in Ladakh such as DTH, Television, Weather forecasting, Radio, ATMs, VSATs, Internet, Mobile/Telephone, Personal navigation using smartphones, Disaster management etc all these service require Space assets. 
I am not in a position to comment on the effective use of space-based technologies in the development of Ladakh or J&K. It is the responsibility of the various agencies, State Govt., LAHDC to take up such projects and effectively use for the long-term planning and sustainable development of the region.   However, I would like to share my views on the possible use of space-based technology in Ladakh in various fields as under:- 
1.Town planning, wetland identification, agriculture, watershed development, Irrigation planning etc
2.Underground water table identification.
3.River water level monitoring and high-level alerting system.
4.Disaster management.
5.More accurate local weather forecasting.
6.Glacier depletion monitoring. Artificial glacier studies.
7.Resource monitoring and management. 
8.Trekking and hiking. Location-based tourist information dissemination system.
9.Automatic route identification for snow clearance on high passes like Zojila, Khardong la etc
10.Tele-medicine system to connect all remote hospital with SNM Leh and SNM with other super specialty hospitals.
11.Tele-education hub at Leh connecting all remote school.
12.Village resource centres.
13.Geographical location system (GIS) and many more.
These are my personal views. 
Q.Tell us about the recruitment procedure in ISRO?  Is there any reservation for the post of Scientist in ISRO?
Recruitment to the post of Scientist/Engineer (group-A) in ISRO takes places in various ways as under:-
1.    ISRO has set up 'Indian Institute of Space Science & Technology-IIST' (https://www.iist.ac.in/ ). It offers B.Tech, M.S/M.Tech. degree. The admission to IIST is based on IIT-JEE mains exam ranking. After completion of B.Tech, M.S/M.Tech. with the required grade, they are directly recruited in ISRO for the post of Scientist/Engineer-SC level.
2.ISRO Centralized Recruitment Board (ICRB) conducts all India level exam followed by interview for the post of Scientist/Engineer. The candidate should have B.E/B.Tech, M.E/ M.Tech, M.Sc.  Please, login to  http://www.isro.gov.in/careers for updates. 
3.Ph.D. candidates can directly register at http://www.isro.gov.in/careers . Based on their field of specialization and the requirement, they are called for interview.
Getting into ISRO is purely merit and talent based. There is no reservation for recruitment at Scientist level post. However, for other post such as technical assistant, technician, administration etc, there is reservation as per Govt. rules.
Q.Why we should not rely on the reservation. Do we have the capability of getting admission in top institutes and top MNC?
I think the younger generations are quite intelligent and smart. There are some Ladakhi students who have qualified in IITs, IIMs, and other top institutes in India & abroad. Also, some are working in top MNCs.  I am optimistic that the younger generation will make Ladakh more proud. 
Q.Before joining ISRO you have also served with LREDA, PDD and IAO, Hanle. What is the difference between working in Ladakh and out of Ladakh?
ISRO is known for its unique work culture. It is an R&D organization. I have seen people here who dedicate their life for the success of the mission. Govt. of India has recently recognized ISRO for its services in the use of space technology for national development by conferring 'Gandhi Peace Prize'. Many eminent Scientists are awarded various national and international awards. It is among the top space-faring nations. We are committed to total quality and zero defect in space systems and services.  
I had the privilege to work for a short period with LREDA, PDD and IAO, gasesHanle. It is there I have learned the professional ethics, public dealing etc. They are contributing a lot in the development of Leh-Ladakh. 
One needs to take a calculated decision in choosing the profession and place of work. Virtually you are married to the professional life. Accordingly, it will have an effect on one's personal and social life. I enjoyed each and every bit of professional and personal life. 
Q.When we talk about global warming we are also affected though we are the least contributor but we are the most affected. Glaciers are melting; Natural disasters like floods are increasing? What can be done to prevent such disasters? 
Global warming is affecting each and everyone on the planet earth. Global warming is the unusually rapid increase in Earth's average surface temperature over the past century primarily due to the greenhouses gasses released. Averaged over all land and ocean surfaces, temperatures warmed roughly 0.85 degrees Celsius from 1880 to 2012. Temperatures are certain to go up further. There are many researches done by ISRO, other scientific organization in India & abroad on the Glacier depletion. According to some reports, about 67 percent of the nearly 12,124 square miles of Himalayan glaciers are retreating at the rate of about 10-15 meters (33-49ft) each year and could vanish completely in another 50 years.  
The Glaciers in Ladakh are also depleting. This is an alarming situation. Since the people of Ladakh are dependent on Glacier water for drinking, agriculture, groundwater recharge, tourism etc. The recent natural calamities such as cloudburst, Glacial lake outburst etc are the effect of Global warming and climate change.  As you rightly said, we are the least contributor but we are the most affected.  
We can do our bit to reduce the emission of greenhouse gases by taking certain steps such as:
1. Reduce the burning the fossil fuel, woods etc in the winter for the heating system.
2. Reduce the personal car usage and encourage the use of public transport system. 
3. Restrict the number of vehicles plying on high passes such as Khardongla, Changla etc. 
4. Strictly impose the pollution control norms.  
5. Building the energy efficient houses such as south facing, solar houses, rammed earth house, use of local building material. 
6. Use energy efficient lighting products, solar energy, wind energy etc
7.Plant more trees. Trees absorb carbon dioxide and give off oxygen.
Natural disaster such as earthquake, flood, snow avalanche, landslide, artificial lake forming etc cannot be avoided completely. We have to live with the mother earth and obey its rules. Ladakh also lies in seismic Zone-IV. We need to take certain precaution to reduce its impact due to disaster.  Following few steps can reduce the impact of natural disaster.
1. Use of Space (weather satellite), a ground weather monitoring system such as automatic weather stations, Doppler radars etc can certainly help in accurate weather forecasting.  Need to have local level accurate weather forecasting, information gathering, and dissemination.  
2.Proper town/village planning using scientific facts and figures. 
3.Identification of landslides zone, identification of high-risk area particularly on the bank of rivers, streams etc and early warning system.
4.Need to have proper natural water flow system.  There are many areas in Ladakh where the houses/towns are built or planning on water drainage areas. It needs to be cleared at the earliest.  Similarly, the water stream (Tokpos) have encroached in almost all the villages and town in Ladakh. 
5. There should be proper building codes, particularly for the high-rise building. Since Ladakh lies in seismic Zone-IV enough precautions should be taken.
6. An efficient disaster management system such as preparedness, early warning, response, relief, rehabilitation, recovery, and mitigation should be in place.
7. The list goes on...
Q.With the great strides made by ISRO in recent years, how do you see India's future as a space-faring nation with regard to its competence?
Dr. Vikram Sarabhai, the founding father of Indian space programme, recognized the benefits of space technologies for India. He said, " we must be second to none in the applications of advanced technologies to the real problems of man and society…" Today ISRO has emerged as one of the top space agency in the world and it ranks 6th in the space-faring nations such as NASA (USA), ROSCOSMOS (Russia), ESA (European Space Agency), CNSA (China), JAXA (Japan), ISRO (India)…..  
Worldwide ISRO is recognized for its high success rate. ISRO has many exciting and challenging missions ahead such as Advance Communication satellites; Navigation programme; Remote sensing programme;  Space science missions such as Chandryaan-2, ADITYA etc; Advance technology developments in space and ground systems;  Launch vehicle developments such as GSLV-Mk III, Cryogenics engines, air-breathing systems, Heavy launch space transportation systems etc; Human Space Programme (Man mission),  Interplanetary missions; many societal benefit programmes and many more.
The younger generation will have more opportunities and they can take ISRO much further. The sky is the limit. 
Message to the readers
Follow your dream, don't dream in the night, dream in the day. If you want to shine like a sun, first burn like a sun.  One should love the profession whatever they do and excel in your chosen field.