In conversation with Dr.Zahida Bano
By
Pal Thiksay Gobi
LEH, Aug 17, 2016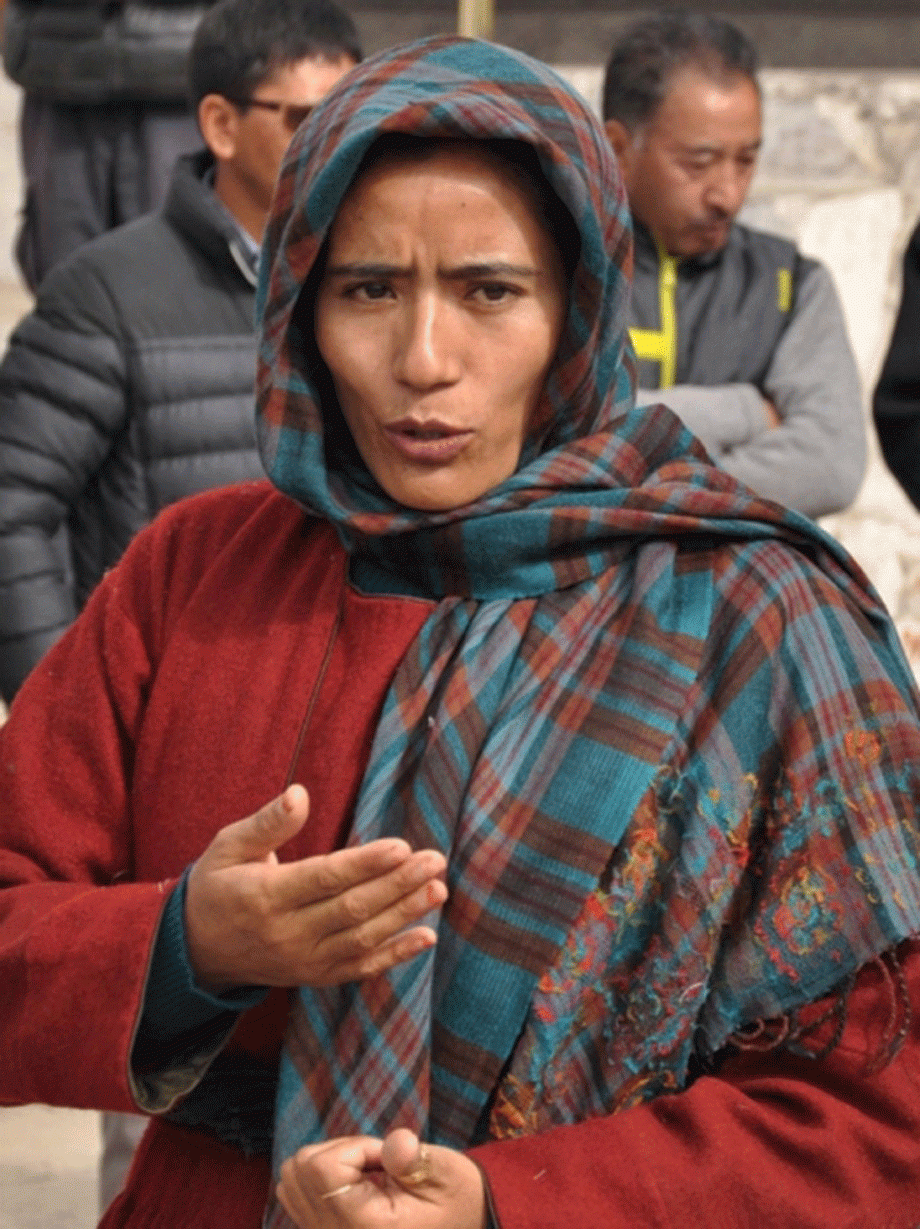 LEH :
Dr. Zahida Bano is currently serving as Chief Executive Officer (CEO), Leh Development Authority (LDA) and she is also the Principal of Food Craft Institute (FCI) Leh, besides she is also holding the additional charge as Administrator, Municipal Committee, Leh.
In 2001, she cracked KAS in her first attempt at the same time cleared NET. In 2006 she was awarded Doctorate degree in History.
Q. When did you start working as Municipal Corporation administrator and how do you take this opportunity?
My first job as a municipal corporation administrator was started in 2014 and it was a big opportunity as well as a challenge for me. But I took this as a challenge and tried my level best. 
Since it was a very new department I witnessed most employees of the organisation are incompetent, lack of accountability, commitment, and haphazard office because there was no administrator at that time.
As compared to before things have changed a lot and it is quite satisfactory at present.
Q. Looking at the development scenes in Leh city, what is the main function of Municipal Corporation? 
The main role of MC is sanitation of whole town, removal of garbage from the outskirts also viz Choglamsar , MES colony regulation of parking of vehicles, issuance of trade licenses, registration of birth & death events, issuance of building permits, construction of Soakage pits for disposal of kitchen waste, sterilization of stray dogs, disposal of unclaimed dead bodies and maintenance of public toilets.
Tourism is the main attraction of city popularity, earlier we have quality tourism, now it turned into quantity. Quality tourism is now replaced by mass tourism.
Although tourism can bring many economic and social benefits, mass tourism is also associated with negative effects. This sector can only be sustainable if it is cautiously managed so that potential negative effects on the community and the environment are not endorsed to be more important than the economic profit.
Q. Though people like the city, still they have to face enormous problems in the city in terms of amenities. Do you agree with this statement?
Yes, I do agree with the statement that public does face many problems in the city in terms of amenities. This problem will persist even if the facilities are provided under Leh Beautification project, because of the increasing number of tourist. Many projects have been carried out at Council level like Public convenience and street lights.
Along with infrastructure, the basic amenities are also improving in the city. The corporation is also doing their best for the city and hopefully, everything will be at its best in the near future.  
Q. What actions and measures you are going to take to make Leh as a comfortable place?
Under the ministry of Urban Development, Atal Mission for Rejuvenation and Urban Transformation (AMRUT) all the measures will be taken to make Leh town a better place to live in. 
This mission takes a project approach in working towards improving existing basic infrastructure services like extending clean drinking water supply, improving sewage networks, laying of water drains, improving public transport services and creating green public spaces like parks etc, with a special focus on creating healthy open spaces for children.
Q. Do you have any plans for vendors and local footpath vegetable sellers? Have you specified any local vegetable Area?
Regarding the footpath, the department, merchant association, stakeholder and administration unanimously decided that no one will be selling things on the footpath along the roadside. The footpath sellers near Balkhang area will be shifted soon as work is already in process. Similarly, regarding vegetable sellers in the main market area, which is a free vehicle area, it is not causing any issue, so they will remain there.
Q. What about new waste management plant near Skampa Ri area? What about the segregation of dry and wet waste?
It is a pending project since 2008-2009 and finally got implemented this year, it is already identified as well as the road is also accessible. But there are some technical problems related to recycling and processing treatment.  80% is completed.
We will be having different vehicles to collect wet and dry waste separately. Discipline in the organization and people's cooperation is very important for the successful implementation of all kinds of plans for the city.
Q. Are people cooperative enough for maintaining the city decorum? What would you recommend, suggest to the people of Leh city?
The public is indeed very cooperative, widespread understanding of the plan is an essential stage in overall development and fulfillment. In Skalzangling area, we solely requested people to kindly whitewash their houses since it is an area where all the VIP's and tourist pass through the airport. They did whitewash their houses and shops. This means Ladakhi people are cooperative and supportive.
Q. In Leh we don't have a proper slaughterhouse. Do we have any plans for it?
Skampa-Ri slaughter area was already shifted to Bomb Guard, although the slaughterhouse at Bomb Guard is in an open area, we have sent projects one year ago to make it closed walling,  but till date, no fund has been sanctioned.
Q. Increasing complain about dog menace almost everywhere, what action are you taking on it?
It is impossible to eradicate dog menace in a short period.  Stray dog menace has become a major issue in the city. Various solutions like mass sterilizations, the creation of dog shelter are done by District Animal husbandry office, municipal committee, and Young Drukpa Association.
As per experts, it is a time-consuming process. Mass sterilization is the only solution. We should be sterilizing and vaccinating to control its population.
Q. Changspa being a tourist hub, lack of streetlights causes lots of challenges to the people. Comment.  
Last year, the funding was approved by Leh Development Authority (LDA). And we bought the street lights and the installation of 30% is done in this area. And regarding the maintenance related to bulb fuse etc, it is the sole responsibility of the mohalla to replace it. If one is talking about the fundamental right one must think about fundamental duties as well. We should not rely on govt. for everything. Some works can be done by us. 
Message to the readers
"Whatever govt. is doing or providing schemes, it is in the interest of people. So it is the prime responsibility of the people to use it properly. Public property should be used as one's personal property. Cooperation of the people is needed to develop the region."