In conversation with Couturier /Fashion Designer Jigmat Norbu
By
Kunzang Chosdol
LEH, Dec 06, 2016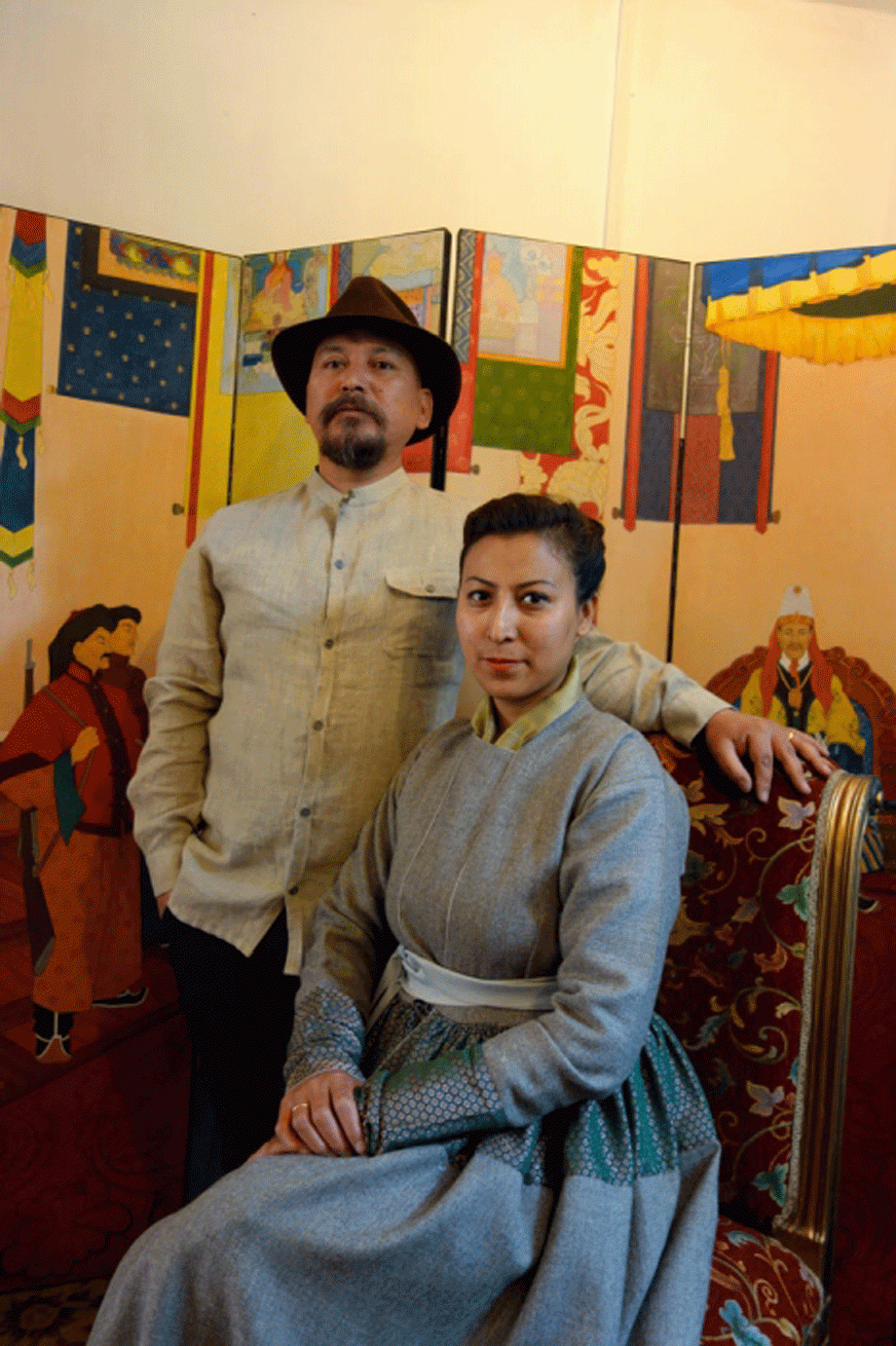 LEH :
Jigmat Couture is a traditional as well as fusion couture venture which is run by the duo Jigmat Norbu and Jigmat Wangmo. Both of them are NIFT Mohali graduates, and has been associated with the biggest names in the business 'both national and international'.  
They are the creative professionals who have given a new signature and added the value of age-old tradition and culture. With an aim to revive the ancient culture and tradition they designed and came up with wide varieties of traditional attire with a blend of modern touch thus, making it in Vogue and attracting art lovers to own it.
Q. Tell us about Jigmat Couture and when did you start this venture? 
Jigmat couture is a venture which works on the revival of Ladakh's traditional attire taking reference from the old clothes. It was opened in Leh on August 5, 2010. Both of us are in designing and have passed out from NIFT Mohali. As for me, I have 10 years experience as I worked with many MNC's and also as a freelance designer. My wife has worked with Reebok Company and got an experience of 5 years.
We returned home with a thought of doing something new in Ladakh and discovered that wool is the best resources in Ladakh through which we can do something.  Since the wool textile locally known as Snambu is woven in two weaves as Tanglok and Gyalok only and has not been improved further. To create a signature costume we designed the local wool textile in varieties of weave, color combination, texture and design keeping the real essence of the weaving process intact.
It took two years to research about the local wool textile, collecting resources, knowing the market, and pitching the target audience etc. Thus, we started the traditional costume of Ladakh with an exquisite range of bridal wear collection and embellished accessories.
We designed the attire with a blend of western and traditional design. The main motive is to revive our culture ensuring not to over-modify it which will cause harmful for our costume identity in the long term.
Q. In a society where fashion designing was a new word, how people respond to it in the beginning? What kind of challenges do you face while starting this unique kind of venture in Ladakh? 
In the beginning, as the market was new and the taste of fashion was growing up among the people of Ladakh, we faced a few challenges. Fewer local visitors and lesser care were there about the fashion of traditional costume, so we started working on bridal attire with varieties of embellishments in the traditional costume of Ladakh. Today we are known for our design and creative textile.
The main challenges we faced was the lack of skilled artisans as we were focused on woolen textile in the traditional weave as a marketable product.  Though weaving was not new to Ladakh, however, there were limitation and constraints in terms of weave, designing, and innovation.
Q. What is the difference between Couturier and fashion designer? 
Actually, Couturier is one whose profession is a bit more detailed and unique than the fashion designer, we call ourselves couturier. We not only work on fashion but we do research, documentation, archival work and then the development of old vintage attire which were used in the past but is not worn anymore.  To keep the tradition and custom alive for the future generation we work on these things with a modern touch and thus making it in vogue.
Couturier's work for long-term benefits such as revival, research, and documentation for the future generation. On the other hand, designers are someone who works with the time, situation and creating a design with season and taste of the market. 
Thankfully our client also takes us as a serious couturier and most of our collection is the heirloom.
Q. Why did you choose this profession and how the promotion of art, craft and culture of Ladakh came into mind?  
We were creative and there was a chance we can do wonder with this profession. We have worked and experienced in different companies and thought of using this talent and skill for ourselves and to the people of Ladakh. Seeing the Wool and Pashmina in abundance and are famous in Ladakh and never been used by Ladakhi in broadly.
Everyone in our profession does business but very few care about culture. We thought of promoting it since college days, our first show in college was inspired from our own land and thereafter when we started our brand we chose to start from Ladakh.
Q. Do you have the desire to become a designer since from your childhood? When did you start your career as a designer?
Actually, I never thought of becoming a fashion designer but I was very interested and good at art. When I was in 5th class at Lamdon School one of the foreign authors visited the school, who selected students from India who are creative in art and I was one among them. My art was published in a renowned book called "Children of India". Along with the drawings and I wrote in Bhoti about my aim "I want to be in business, business something to do with creativity and culture, that promotes art and culture of Ladakh".
It was during my college time when one of my friends suggested me of fashion designing as a career and about NIFT and I joined this institute.  In the year 2000, I cleared NIFT, and my wife Jigmat cleared in 2005. After that, I worked with many MNCs and export house and my wife worked in Reebok Company until we start our own.
Q. What are the new things added to the textile and costume of Ladakh?
The raw and untreated clothes worn by us so far are very graceful and functional, but this needs little changes like processing in dyeing techniques and different weight of the fabric depending on the silhouettes. We are also working on the revival of old traditional costume 'sulma' which was used since ancient times. Taking the references from the old costume which has lesser gathers 'sul' and fitted sleeves 'phutungs' we named this collection as Royal costume since inspiration itself is from one of the Royal 'mogos'. We re-designed it with the similar taste with the embroidery of flowers and silk Hashi in different ways without ruining the old charm of it. 
The Mogos, Bok and Logor are revived with the reference of 18-19th-century silhouettes and Phogos, we are working with embellished on Gyazo, Potzo and sokzo.
While reviving age-old traditional costume of Ladakh we make sure to keep the value and essence of the attire intact to avoid negative impact on the future generation.
Q. Brief us about Jigmat couture art and artisan project-textile museum of Ladakh.
Jigmat Couture is a sustainable business model as well as a healthy social mission for keeping the rich culture of Ladakh, by imparting necessary training to people for an authentic image of an art of Ladakh to behold in the future. In order to keep century's old art and crafts alive, we felt the need to come up with a characteristic place where one can simultaneously study, experience, apprenticeship and receive training in traditional textile art forms. Besides, a portion of our profit goes into various projects like (art and artisan) skill development workshops, research projects and now we are excited to open the first ever textile museum in this part of Himalaya.
As I was researching for Jigmat couture before and after the starting up of this venture, we found many of the old clothes and things for references. These collected references become such a huge inventory that, today we can display in a museum so that others can take knowledge about our past way of living.
This could be more beneficial for the student, researcher, artist who can do a base study before visiting remote corners of Ladakh.
There is also a library, resource center, and workshop in this museum and library has a good collection of textile oriented books, this will be an ideal place for the researcher on art and craft of Ladakh. The archive, artifacts, documentation, swatches and books are available in this museum. It will be very beneficial for the younger generation who are doing research and studies in such fields.
However, the newly built textile museum is entirely constructed on traditional style architecture using local material. We have incorporated all the important elements of the architecture of Ladakh such as Rabsal, Chong-tsay, Sum-stig, Yabs, Nima-lagang and so on in the building.   This will help the young generation to get acquainted with the architecture style of Ladakh. 
It has been completed this year and hopefully till the June next year it will be open.
Q. Where do you get materials and what challenges do you face while collecting it?
Our textile collection is very subjective; our collection is all about Ladakh and nothing else. Some of the specimens are coming from our family, few are donated and most of them collected over the period of time. Since textile is very fragile, we have to take care while collecting and preserving both. Challenges we face while collecting this specimen are authenticity and knowledge of the subject since there is hardly any books or experts on these subjects to refer.
Q. What types of material do you use for making clothes, and which materials are in high demand?
We use 80% local textile as our material and rest are cotton, silk, linen and many more. We use natural and best of material only. For instance, we collect Linen from Aditya Birla and pure silk from Banaras. Earlier, the local costume is made only out of few textiles like wool, velvet, brocade etc, but today we make in more varieties, color and texture.
Because of cold climatic local people prefer Snambu the local textile or worsted wool. We also design the same costume in cotton and other lightweight fabric, especially for western clients.
We have also revived the few silk types of brocade with old 'Asharfi motifs and koshen, Kim kabh, Tenshue with ancient buti motifs. So, with the references of the old pattern, we let the weaver customize for us. 
Q. Since both of you are designers and running the same business how much does it help?
If this venture was run by only one, it would never be at this level. Today our venture is all because we both work really hard as a designer. My wife handles the overall designing and running of the designing department and I handle marketing, public relations, sourcing, management and the projects. So having my wife in designing, research and development part helps a lot. 
Q. How is the scope of fashion designing in Ladakh? Which types of people are more conscious about fashion in Ladakh?
Ladakh has much scope in fashion designing as the material and resources we have is something which is unexplored till today. 
As of now, fashion designing has gained more scope and popularity. To choose a fashion designer as a profession, one must have creative skill; we cannot go on by replicating the existing product. Every day we have to come up with new designs and ideas, so to become a successful fashion designer we must use our own mind to create something new that is what we call the signature style of a particular designer. But sales, marketing, and branding are also very important.
People of Ladakh are conscious about fashion and more on the qualities of the product. We design for male, female, kids and adult, focusing mostly on the variety for bride and groom. Nowadays traditional Goncha has become compulsory at workplaces hence there is more demand in women attire as they are more conscious of color and texture.
Q. You have ventured outside India. What types of clothes do you offer to those people who are not from Ladakh?
We have a joint venture in London, Boston, and Japan at present. We also plan for a more new venture in western countries. We also have an E-commerce business in Japan through dyantra.com.
Most of the clothes in these ventures are accessories which are of free size and we also produce fusion clothes with local attires also. Basically, they have a reference sample of our collection, if any customer wants it they send the orders with their measurement to us and we produce it here in Ladakh according to their taste and fitting and ship back to the client directly. Basically, we run the business from here, rest joint ventures are based on a modular basis with fewer samples. 
Q. In the last six years, how the taste of people has changed over time for traditional costumes? What kind of changes do you see?
Before Jigmat Couture in Leh, there is no option for fine traditional dresses though there were many tailor shops, it solely depends on how tailor makes a garment for the people. But from last six years, we have given the finest workmanship, varieties of fabrics, silhouette and above all promoted Ladakhi costume in many major events, exhibition both national and international platforms. Our clients are proud to wear our brand as it is handmade, made in Ladakh, authentic, local sustainable economy, best of quality. Now locals are conscious and proud of wearing traditional costumes.
People had changed their mentality toward traditional costume and prefer it when they see the good fittings, varieties fabrics and best of workmanship. The style and quality of products made them attractive to own it. We also heard people saying that this is the investment because it is useful for the future generation especially with Bok and Logor.
Q. With the change in time, what new designs are going to bring in the market?
We do not focus on seasonal collection, as in Fashion world they focused mainly on trend; they produce seasonal collections, produce according to trend and in huge productions. But our collection is not seasonal, we do only one collection a year, our product is 'Couture' and is limited. We do bespoke and custom-made. Still, we find a huge liking in traditional phogos and Mogos with finest textiles. We are going to work on embellishment.
Q. When we talk about Jigmat Couture it has become a brand now. Who is your target audience?
Actually, we do not set a target and income group but I think those people who value the art and its qualities, whether rich, poor, foreigner or Local buys our product. 
There is nothing that we cannot buy today, so those who are concerned about art are my audience. There is no margin between rich and poor in our product, it is for the people who really cherish art. So our product is not based on economic standards, there is no specific audience.
Q. We have heard that many celebrities visit your studio? Do you design clothes other than our traditional attire?
Celebrities visiting our studio mostly fit in our prêt line and rest we take custom orders. We take their measurement, their style and it is obvious that they won't be wearing random clothes, so we record everything and follows whatever their requirements.
We have celebrities visiting our studio from politician, Bollywood, Hollywood, royalty etc, westerner mostly chooses Ladakhi attire, and rest of other prefers our fusion collection.
Q. How can we preserve the culture through fashion designing? Tell us about the initiative taken by Jigmat Couture in Lakme Fashion week to showcase our traditional dress.
This year, we did represent some important event such as Ca' Foscari University in collaboration with Italian Embassy organized an event in Venice, Europe. Their topic was "In conversation with contemporary India". European had a typical image for India, like snake charmers, temples, cow, and traffic. So, to break the stereotype notion, the Italian embassy, and the university has initiated this event by calling ten people from India representing the different field, gallery, fashion, entrepreneur background and so forth. And we went there to let people know and to give a broader perspective for India. So my topic was our business, textile of Ladakh and future projects. As this year the RBI governor during his visit to Ladakh named our business as 'sustainable community business model' which involves many people to produce our goods and ideal for mountain community, so my talk was on this topic in Venice, Geneva, and Switzerland. They actually find it really interesting.
And this year we got invitations to get featured at 'Lakme Fashion Week' by Marg publication.  LFW is a big platform for fashion designers to make it loud, showcase their creativity and do business. 
Q. How important it is to showcase our rich culture to the outside world through the initiative like this? What were the main objectives behind this?
It is definitely important, our costumes are not so popular until now our costumes were never shown or worn on-ramp walk and movies. Even if outsiders saw our dress they will either call it the Chinese or Mongolian costume. So this is literally important for us to make people realize that this is our culture and our costumes. 
As of now younger generations are more eager to wear our own traditional dress. There was a time people were not so interested in wearing traditional clothes but nowadays they are more interested and eagerly wait for a chance to wear the dress.
In today's time, many people from Ladakh travel overseas and wear the traditional dress proudly. So it is very important for us to showcase our culture and every individual should contribute in promoting it. 
Q. How do you make numerous colors, fine texture of different fiber? What kind of design do you offer?
Our research and development are very strong, studied in depth color story which we are going to use. It is our understanding of handling the design process over the period of time that we come up with vast varieties of textile and designs, now it has become a continuous process in our business.  This time, we are going to work more on Thikma a lot.
Q. Our society has stereotyped thinking about private jobs. How important it is to change it with time?
Our parents want us to do conventional jobs. Even at this particular time, our parents want us to do a government job, if we all chase after government job, then one day the crisis of unemployment will be our consequences. There are so many creative fields which can not only for business but also promote your own culture and definitely help the whole society as well. 
Message to the reader
Jigmat Couture is not the only brand. We've devoted our profession in promoting art, craft, and culture of Ladakh, working with immensely talented artisans from remote corners of the region, the endeavor is to retain an umbilical connection with the huge talent resource of Ladakh's mysterious craft and culture.