In conversation with Athlete Jigmet Dolma
By
Stanzin Dasal
LEH, Apr 05, 2017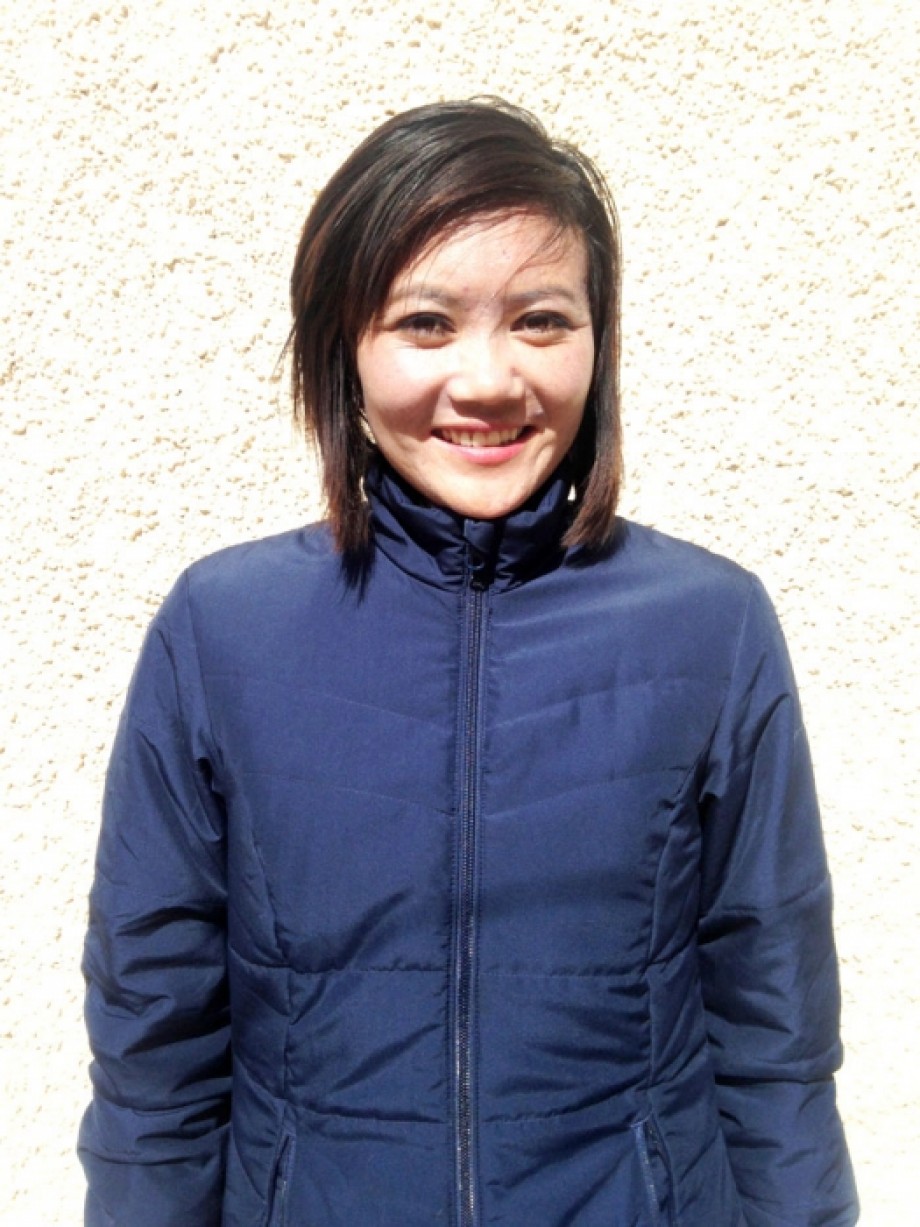 LEH :
Jigmet Dolma, a young athlete from Igoo participated in the Elite category and won the bronze medal with a timing of 3:14.38. She had put Ladakh on India's athletics map during Standard Chartered Mumbai Marathon, 2017.  
Brought up by a small family in Igoo village, she completed her class 10th from Government High School, Igoo and joined Government Girls High Secondary school, Leh for further studies. Running is the first priority in her life and with high hopes and strong determination, she dreams of participating in international races and Olympics. Nothing is big and impossible for her as she believes determination and confidence is what we need to achieve our goal.
Running is her passion and it is this passion which gave this common girl of the small village an identity of her own.
Q. How being an athlete interested you?
I was interested in running from my childhood days. When I used to accompany my mother in the fields and outdoor activities, I used to run a lot which gives me a deep satisfaction and secondly the sports advertisement on TV and the woman athlete running was very mesmerizing for me.  Deep inside me, I always wanted to become one among them. All this was a push factor to go for what I love.
Q. Tell us about your journey till now and the accomplishments you achieved.
I started from my school days with constant support and encouragement from my Games teacher Sir Tsering Tashi and the Principal Late Tsultim Gyatso, Government High School Igoo. They were the people of my life who really motivated me in this field along with the academics. When I was in class 8th, I first participated in 100 meters, Block level competition in Kharu and won a Gold medal. The win was a big motivation for me to do better.  After that I participated in state-level competitions and in 2009-2010, I participated in National level 800 meter race in Kerala. I did not win any title but that was a good experience. With this, I left running for two years because I got dropped in the class 10th examination.  The whole two years I didn't participate in any race because I was out from school and there was no opportunity for me. 
In 2012, Ladakh Marathon started which was a very big platform for me. I really appreciate and express my gratitude to Rimo Expedition, Mr. Chhewang Motup for all the support and opportunities. For the people residing in the high altitude region, 'Ladakh Marathon' was a game changer for many. It has provided platform and opportunities to many young runners and has once again made many interested in this field with new hopes like me. 
I participated from 2012 to 2014 in 21 km race and won first place. In 2015, I participated in 42 km race and bagged second prize with the timing 3:49.  I also participated in the Mumbai Marathon also from 2013.  I scored 17th position when I first participated and every year it got better with time. In 2017, I participated in Standard Chartered Mumbai marathon 42 km elite categories for the very first time and won 3rd position with timing 3:14.
Q. What one or two things do you currently do in your training that is keys to your success?
Time management and willpower are the two things which I am focused upon.  I stick to my practice schedule with a belief and hope to perform better in every competition.
Q. What is your biggest challenge faced as an athlete?
Not having a proper and well-equipped training centre or ground is a very big challenge. To improve the speed it is very important to have a running track.  We don't have running track facilities in Leh because of which we have to practice on roads. Along with the stamina, it is very important to have speed in order to win the competition. 
Secondly, motivation and encouragement from society and family come very late. People are more focused on academic performance, thus, such interest and talents are never appreciated in the first place. Many say, "What you will do after running it will get you nowhere and nothing good will happen." While practicing, we come across many people who giggle and laugh on us. Such mentality needs to be changed. All these words and attitudes are very discouraging for the sports person.
Q. Share us your experience in Mumbai Marathon 2017. 
Standard Chartered Mumbai Maraton 2017 was an amazing moment. We were 11 athletes, 5 girls and 6 boys from Ladakh. Participating in the Elite category for the very first time was a big opportunity and as well as a brilliant experience. I and my fellow athlete Tsetan Dolkar secured 3rd and 4th position. I was very nervous to see my competitors and didn't really dream big. I focused only to improve my timing because I did not have any hope of winning and securing a title.  It is the happiest moment of my life because I achieved my personal best and bagged the third position.
I express my deep gratitude to our coach Savio D'Souza, who has been coaching us for the last two years.  It is his motivation and tactics which groomed us to compete in such big tournaments.
Q. Today we have many talented youths in sports who have represented in National and International level. Are these sportspersons getting enough the importance?
Our society gives very less importance to sports. The administration should think of developing sports in our region with infrastructure development and many other initiatives so that students excelling in sports can practice and get facilities in our own hometown without depending on the outside. This will encourage and shape the youths to compete in national and international level brilliantly. 
We the athletes of Ladakh are supported by Rimo Expedition likewise if the administration extends their support and maintain a competitive environment to develop sports in a true sense more and more interested youths will be motivated.
Q. How important is it to encourage the sportsperson?
Appreciation and recognization are very important to encourage a sportsperson from every section of our society. When you do well and rewarded for your achievement you feel more encouraged to perform better in future competitions. It's a very important part to grow as a sports person.
Q. You have participated in marathon competing with different athletes of various regions, what are the differences you have seen? What else do we need to participate in the international level?
Yes, athletes of different other regions are very challenging and competitive.  They are more trained than us. Most of them are into this from their childhood with proper training and facilities as compared to us. It is difficult to compete with such well-trained people but nothing is impossible if we are determined to give the best.
Athletes of Ladakh have very good stamina as compared to others the only thing we need to focus is to improve our speed. 
Q.  What are your views on how sports should be delivered in schools and colleges?
I feel sports can be delivered and developed if the teachers and parents give equal importance to the sports along with the studies. We have very talented students, the only need is an opportunity and motivation to achieve it.  Different tournaments at grass root level will make the student more interested and trained.  Physical education should be given equal importance in every school.
There should be more tournaments and marathons in Ladakh at all levels and appreciation is also very important.  A sports complex with all the equipment and facilities will be good to help and support the student who wants to excel in sports. Many drop the idea of being sportsperson due to lack of facilities and costly equipment. This will help many poor background students to excel in different sports. 
Q.  Do you think women athlete is given same importance and status as compared to the men athletes?
Men and women are treated equally and there is no differentiation in our society. They equally participate in every marathon.
Q. What is your message to the budding professional athletes who have big dreams? 
There will be many difficulties and hurdles but nothing is impossible if you strive and keep the faith in achieving it. We can perform much better and make own identity if we stick to our practice schedule. Strong willpower is very much needed if you want to perform and give the best in the competitions.
Message to the reader
Appreciation, positive attitude and support go a long way in keeping the sportsperson perform better.