WILDLIFE
By
Stanzin Dasal
Sep 02, 2016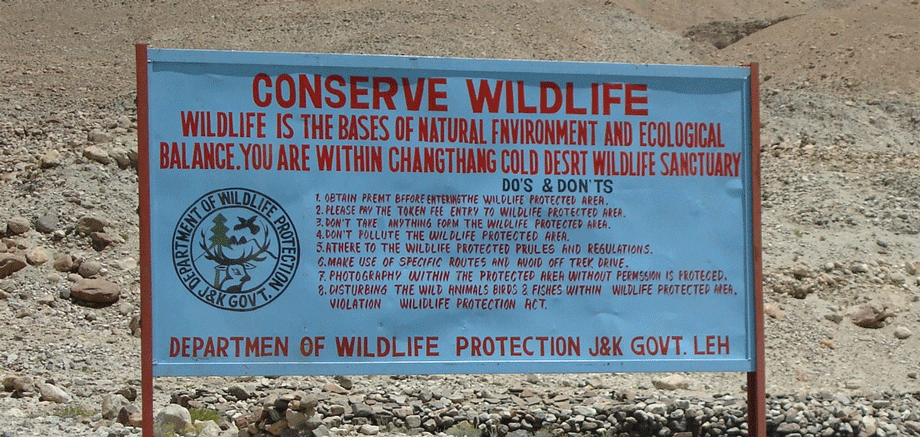 Jigmet Takpa IFS, Conservator of Forest (Wildlife) Ladakh: The unique ecosystem of Ladakh has supported the vast diversity of wildlife. We constitute a hub of wildlife which includes that of Central Asia, Indian Subcontinent and the entire wildlife of Tibetan plateau. We have different wildlife species which includes Blue sheep, Nayan, Ladakh Urial (Shapo), Ibex, Tibetan Antelope, Tibetan wild ass, Tibetan Gazelle (Gowa) and much more. Ladakh is also one of the major habitants of snow leopard and can be known as the Snow leopard capital of the world.  We have lynx, Tibetan wolf fox, and many other carnivores' animals. Apart from the wildlife, we are very rich in varieties of migratory birds.
Ladakh-trans-Himalayan bio-diversity is very fragile and is in danger of extinction which needs to be protected and preserved for the better tomorrow. Wildlife conservation has become a matter of concern, not only for the departments but for everyone. A large number of livestock rearing has severely affected the wildlife. There are some wild animals which also depend on pasture land, but due to a large number of live-stocks they are unable to sustain themselves and survival becomes hard for them. Livestock rearing should not be given up but can be reduced when people have options for another source of income.
The department has been carrying up many conservation projects to increase the number in the wildlife population. We have been giving and constructing predator proof cattle pen or corral to the livestock rearers in the far flung areas to reduce the conflict, saving livestock from the carnivores attack.
From the local point of view, I want to say that the level of conservation has progressed over time. For e.g. Snow leopards can be spotted in almost every village, which attracts tourists during the winter season. This becomes a reason to save wildlife. Snow leopard which was considered as the biggest predator is now the biggest asset for the people of Ladakh.
If we talk about poaching, it is not a new practice. Hunting was carried from a very long time. Earlier, locals use to hunt wildlife to save their livestock as well as for their consumption need. There was no law for the conservation of the wildlife. There was a time when the Maharajas of Jammu created hunting reserve also known as a game reserve, in which only their guest or selected others could hunt. It was in 1972, the law was introduced and in the year 2002, it was amended strictly in the state.
It is pertinent to mention here that Army and para-military forces have become a major threat to the wildlife. Their units are settled in the most fragile areas of the border which is rich in pastures, water and makes the hotspot for wildlife. Their settlements, therefore, disturb the eco-system.
The end number of dogs which breeds near their camps and units is another threat to the wildlife. Giving an example on the menace of dogs, Tibetan Antelope or Chiru is a species found in the Changchenmo valley situated at China border in Changthang region. This species was hardly seen and when asked, it came into light that the dog chases them away. But right across the border, Chirus are seen in end number. Thus, the dog menace has created huge havoc in the population of wild animals as well the migratory birds.
Wildlife crimes will be reduced if locals cooperate along with the concerned department. It is very important to save wildlife for the sustainable development of Ladakh.
Solutions:
Strict law enforcement against the violators.
Awareness is very important to understand the importance of wildlife for the sustainable development of Ladakh.
Working together with every responsibility to maintain ecological balance.
Dr. Pankaj Chandan -Team Leader, Western Himalayas Landscape ,WWF-India: Ladakh has a very special place as far as the wildlife of the region is concerned. Some of unique assemblages of wildlife species exist here. The existence of a large number of medicinal plants in this region makes it a significant place for floral diversity as well. This is the only place within Indian limits where species like Black-necked Crane and Bar-headed Goose breed. In addition to this, many other species of birds also use the wetlands of Ladakh as their breeding and feeding grounds. Ladakh has the best population of Snow Leopard and the existence of Saker Falcon, Upland Buzzard, Himalayan Otters, Tibetan Antelope make this region a true wildlife hotspot. 
Role of WWF in Ladakh
WWF through its education, outreach, and conservation research programmes is trying to protect the unique biodiversity of Ladakh in collaboration with various key stakeholders mainly the Department of Wildlife Protection. From time to time WWF does organize capacity building programmes through its various nature conservation initiatives. Another important role which WWF plays in Ladakh is through the production of education and awareness materials in the form of posters, booklets, and research papers. 
We need to conserve wildlife because we owe it to our future generation. Moreover, this is a unique heritage and we must make efforts at all levels to protect it.  In an area of Ladakh, the conservation of wildlife is linked to the economy and livelihoods of this region. As a large number of tourists come to Ladakh to see wildlife of this region, so it is very vital for us to protect this wildlife to ensure sustenance to our livelihoods and to our economy. Also, healthy populations of wildlife are a clear indicator of a healthy environment so to ensure a healthy environment and to maintain ecological balance all efforts needs to be made to conserve wildlife.
It is very simple to understand, poaching can disturb the delicate ecological balance in the region. The decline in prey base will lead to the decline in predator population as well. Therefore in addition to immediate measures for the protection of predators more, long-term measures need to be taken to protect the prey base of these species. 
All the protected areas of Ladakh are being managed by the Department of Wildlife Protection, Government of Jammu & Kashmir and WWF plays the role of facilitators of various conservation initiatives in this region. The authority to take action against the violators of the rule is with the Department of Wildlife Protection.
Ladakh is a very vast area and a huge effort is required to regularly keep a watch on wildlife crime related cases so more and more efforts should be focused on building the capacity of the enforcement agencies. At the same time, regular education and awareness activities for all the stakeholders about the importance of wildlife of Ladakh needs to be carried out in all parts of Ladakh. Moreover, a focused study on wildlife crime relates to issues in Ladakh needs to be conducted and only then this question can be answered with proper facts and figures.
Through strict law enforcement, regular education and outreach programmes, we can tackle the issue of crime against wildlife. Every case of wildlife crime needs to be dealt with strictly and guilty must be punished under the law. 
Everyone needs to realize that wildlife is our common heritage and we must work together to protect this heritage. Also, we need to understand that in a region like Ladakh with very limited livelihood options, wildlife of this region offers tremendous opportunity to sustain an economy of this region through various ecotourism initiatives of this region. Therefore for the sustainable development of Ladakh wildlife protection is a must.
Solutions:
Regular education and outreach programme on the importance of wildlife.
Focused study on the wildlife crime in Ladakh.
Regular monitoring.
More awareness on the conservation of wildlife.