In Conversation with Sculptor, Chemat Dorjey
By
Stanzin Dasal
LEH, Oct 03, 2017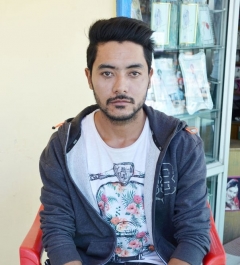 LEH :
Chemat Dorje is a young contemporary artist from Sakti village. He is a Gold medalist in Bachelor in Fine Arts from Institute of Music and Fine Arts, University of Jammu.
He also received the Best Performer of the Year Award by Institute of Music and Fine Arts MFA Jammu in the year 2010 and 2011.
Apart from these recognitions he also got the All India Young Artist Scholarship, Field of Visual Art, Ministry of Culture, Government of India, 2015-17.He was born with an artistic talent that led him to make art pieces admired by all. His work has been recognized at the national level.
The young contemporary artist Chemat Dorjey has given a light on the modern art in Ladakh.

Q. Tell us about the time when you realized that you would be an artist?
I was interested in art since my childhood and use to take part in various competitions such as drawing, painting, poster making during my school days. After my higher secondary, some of my seniors guided me to pursue Bachelor in Fine Arts and in the year 2009, I completed my four years course from Institute of Music and Fine Arts, University of Jammu.
Before pursuing the course I had a vague idea about the subject but the 4-year course has much to offer in various fields and I chose sculpture as working with the clay pretty interested me. In the year 2012, I completed my bachelor degree and pursued Masters in Fine Arts (2013-2015) in Creative Sculpture from the Faculty of Visual Arts, Banaras Hindu University, Varanasi.

During my formal learning, the works of many other artists and teachers encouraged me specially the work of Padmashree awardee Rajendra Tikku, known for stone sculpture. At that time I used to work with my teacher after school at their home which has definitely helped in making my foundation strong.

Q. What inspires you to become a sculptor? Tell us about your first work.
I do painting, illustration and sculpting but was more interested in sculpting since it is a 3-dimensional work and has more freedom. When you work on a material and form an art piece it adds value to that material. My family has always encouraged me to pursue this as a career and they never interfere with my work and I was given all the freedom to work.
The work of an artist is in two forms reality and abstract. I work on semi-abstract form on the traditional theme. In abstract art, it aims to take subjects from reality but present them in a way that is different from the way they are viewed in our reality. My work draw depicts everyday material objects such as traditional shoes, spindle, kettle etc.
My first work was themed as 'Welcome' the art is formed with very simple traditional yet very important sources or materials such as the traditional shoes, hat and kettle. The three elements are fused together because they are the strong elements in our tradition when it comes to welcoming. Thus, I removed the human figure and worked on the three elements.
By retouching and working on it again, I am planning to showcase this work in an upcoming exhibition at Indira Gandhi Rashtriya Manav Sangrahalaya, Bhopal in September with the support from a professor at Ashoka University.
Q. What are you trying to communicate with your art?
As a contemporary artist what I feel and think needs to be depicted in my work. The culture of Ladakh has always inspired me and this made me work on it in many ways. With my art, I want to keep the age-old tradition and culture alive which is somehow degrading with time.
Q. What style of art would you classify your work and on which medium you work?
My work is abstract and semi-abstract and on the traditional theme. In my work, the culture, tradition and environment will be expressed in many different forms. My focus is to create art out of most kind of materials using different mediums from wood to metal, stone, fibreglass, acrylic and paper. The rich culture and environment have always inspired me to create art work and highlight its importance and value.
I draw heavily from tradition and use very simple sources. I am obsessed with the objectification of spindle used by the ancestors of our region and was a very useful object introduced by them.
Q. You have exhibited your work in many exhibitions. What was it like to get to that level? Can you share us the experiences?

There are three important exhibitions, first was the solo exhibition held at Lalit Kala Academy, Delhi in the month of February 2017. The group show at "The Inner Path Festival" on April 7 at the Alliance Française de Delhi which showcased international Buddhist films, exhibition of Buddhist art, discourses by eminent Buddhist scholars and practitioners. And thirdly, the group show at Art and Soul in Mumbai.
Apart from these important exhibitions I also exhibited in Annual Jammu and Kashmir State Art Exhibition, Kala Kendra, Jammu in 2008-09, Group Show, Amar Mahal Museum and Library, 2010, Annual Jammu and Kashmir State Photography Exhibition, Kala Kendra, Jammu, 2010-11, Confluence 12, a group show at Kala Kendra, Jammu, Mapping old town: Archival Studies and Contemporary responses, LAMO centre, Annual Art Exhibition, Faculty of Visual Art, BHU, Varanasi, Birla Academy , Annual exhibition of Art, Kolkata, 57th National Exhibition of Art, Lalit Kala Academy, New Delhi.
Q. When you exhibit your work, it's not just about presenting your work and ideas but also about selling the art piece.
During my solo show, it was a time of demonetization and selling my art pieces was rare but on the other hand, the day was important for me. The exhibition was successful and my theme was such that nobody has touched or explored before.
I have worked in many workshops and camps such as sculpture making Camp, Viraj Kala Kendra, Jammu, Enamelling on Metal workshop, Enamellists Society, New Delhi, Sculptor and Painter Camp, Jammu, All India Sculptor camp, J&K Academy of Arts, Culture and languages, Art Camp, LAMO, Art Conclave, Lalit Kala Academy of Art, Lucknow, Regional Wood carving camp, Lalit Kala Academy, New Delhi.
Q. What are your biggest achievements?
I am happy that my work has been selected at the National level and I was also selected among the National artist in 57th National Exhibition of Art, New Delhi in the year 2015. The scholarship of All India Young Artist Scholarship, Field of Visual Art, Ministry of Culture, Government of India is also an achievement for me.
Q. Tell us about the importance of art in our society. What role does an artist play in our society?
Traditional art is very important in Ladakh as compared to the other parts of the world as we have been using Thanka painting to wood carving in our day to day life. But with time, the age-old culture and tradition are fading away. Today few people are interested to learn thanka painting, statue making and different forms of art.
We need to encourage contemporary art along with traditional art and in this artist also plays an equal role in our society like any other person. The history and culture of our region are admired by everyone and is also an exploring subject for an artist. Art reflects the reality, knowledge and awareness.
Q. What obstacles do you face in making and exhibiting your work?
In Ladakh, we have a group of 14 to 15 visual artists in different fields known as Progressive Artist of Ladakh. With the help of LAMO, we carry out camps and exhibition every year. Exhibiting work in Ladakh is not challenging as compared to other states. When you exhibit your work in other states, you need to find a gallery, prepare catalogue, posters and many guests need to be invited which is not the case with Ladakh.
One of the challenges is the financial constraint as very fewer people take interest in visiting such work in Ladakh.
Q. The theme of your work draw is a depiction of everyday material objects such as spindle, traditional shoes, calligraphic inscriptions of the Bhoti script and much more. Can you elaborate on this a bit?
I grew up in a village and spent my days witnessing and taking part in daily lives. For e.g. Spindle is a simple but meaningful object of creativity. In sculpture, we need to have a strong form to work upon and on that elements can be added.
Q. Tell us about your engagement with art in Ladakh?
My art work generally caters to the outside population because I feel the theme on which I worked upon needs to be expressed and exhibit for the people who are not from Ladakh. Secondly, in Ladakh, very few people are aware of contemporary art which further makes them difficult to understand the work. My exhibitions are generally done in other parts of the Nation because people are already aware of the contemporary art.
Ladakh's land, history, culture has always inspired me in my work and over the years I have increased my engagement with art in Ladakh. I am trying to understand and communicate with the people of Ladakh and what it really means to the community and how they can engage with it.
We organised free workshops with the help and support of LAMO. One of the drawbacks of free workshops in Ladakh is that people do not value things that are available free of cost.
Q. What are the differences you see in art works of then and now?
Traditional art work are very valuable which needs to be preserved and worked upon but in today's time, art has been explored so much that there are a variety of fields on which one can work.
The traditional art is somehow been exploited now because there was a time when the use of natural colours on thanka painting adds value to it but today we use fabric colours and technology which has reduced its essence.
Q. In our society, less interest is shown in pursuing art formally. Do we have scope in this field?
Yes, pursuing art formally is considered less important as compared to the other subjects, but now the situation has changed and there are students who are exploring such subjects also.
Definitely, there is a scope because the world is changing and people are exploring and learning many new things. Also, the subject needs to be added to the school boards like in other states because it will help them to explore new subjects.
Q. How and what are the procedure to get into Fine Arts College?
For those who want to go for fine arts, you can pursue it after 12th. You need to appear in an entrance examination for Bachelor degree in Fine arts. After which one can also go for Masters Degree and PhD. There will be many scopes as the subject is very vast.
The best institutes are Delhi University, Maharaja Sayajirao University of Baroda, Banaras Hindu University and Shantiniketan College of Fine Arts, Kolkata.
Q.How important is it to hold exhibitions, workshops and seminars to promote art in Ladakh?
Ladakh is a dream place for every outsider and as for an artist; it is a place for exploration because of beautiful landscape and environment. J&K Academy of Art, Culture and Languages, Leh organised sculpture camp in the year 2012 and also this year. And also LAMO organises such events many a times. Such camp provides a platform to the artist to display their work, which is very important. The common platform will inspire each other and helps in reviving the age-old tradition and culture and thus the gap will be filled. More of such opportunity will encourage many to pursue and work on it.
Q. What will be the impact if we don't keep art alive in Ladakh? How can we preserve it?
Art and culture of Ladakh need to be preserved because it is our identity and has been inherited by our ancestors. Being a contemporary artist and my work is based on traditional elements with a blend of fusion work which will be of universal acceptance. If the Government introduce a public art work project than the work of the local artist will remain within the region. While on the other hand, most of the work of a contemporary artist is sold.
At the local level, we need a tribal museum and also we need to work on reviving folk story telling sessions.
Q. What is your dream project?
I am planning to work on Public art project themed as 'Singing Tree' and the main elements will be the bell which has its own cultural importance. Secondly, I am also planning to work on cultivation series of Ladakh.
Message to the reader
We need to give equal importance to art along with the academics. Mental development, creativity and concentration of a child will be strong if along with academics we encourage them to draw and paint.