In Conversation with District Library Head, Lobzang Tsewang
By
Stanzin Dasal
LEH, Oct 03, 2017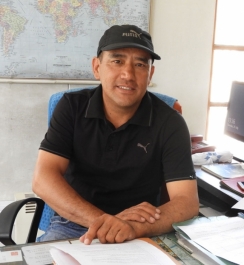 LEH :
A library is a place where we learn what we are never taught one of the necessities of life, the world of knowledge which imparts real education and raises a person. Carlos Maria Dominguez said, "To build a library is to create a life. It's never just a random collection of books."

District Library Leh today has a collection of 35,000 books and 600 registered members. Lack of reading and writing skills among the people of Ladakh is a major drawback and has definitely left library still ignorant and neglected in our society.

In this issue we have Lobzang Tsewang, District Library Head to talk about District Library Leh and importance of books, reading habits challenges and future plans.

He has pursued Bachelor's Degree Programme in Library and Information Science (BLIS) from IGNOU and Diploma in Library and Information Science from Kashmir University.

In the year 1991, he started his journey and started serving as Library Assistant and in the year 2005, he was promoted and serving as District Library Head.

Q. Brief us about the District Library, Leh. How many libraries are there in the Leh district?

In 1960's, a single rented room was developed as a library but later in late 1960's District Library was officially got functioned. There were very fewer books and as per our records and told by the seniors there were books on one shelf. There were books on Ladakh, the history and few books in Bhoti language.

At present we have one district library in Leh and 3 block libraries in Nyoma, Khaltse and Diskit.

Q. What is the library's role in educating the society? How well aware the people of Ladakh are about the importance of Library?

Library definitely plays a big role in the society. It is an institution which caters education service to every level of the society. The place is not specified or meant for the selected section of the society rather it encompasses every section of the society. With no age, income and professional categorization, it is a place which provides information and material of one's choice and interest to everyone.

In big metropolitan cities, libraries are given very much importance and are built in outnumbered with all kinds of facilities and services.

In Leh, the reading habit is very less among the people, a library is somehow neglected in our society.

Stressing on the academic learning thus focusing more on the school books, examination, assignments has become a general perception. The thirst for learning and acquiring knowledge beyond academic subjects are rarely found among the people of our society.

So when I talk about a number of people who visit the library, it is very less as compared to the use of the library in any other parts of the world.

Q. What genre of books is available? In which type of books people are more interested in?

We have books of all kinds from general subjects to books on languages, health, law, religion and many other subjects. We have collections of around 35,000 books but yes, still needed more collection to provide more choices of books on various subjects and to cater all sections of the society.

Recently, we have also introduced study material for the competitive examination.For students, we have sufficient books for their references on various subjects but to the researchers who come down to study on Ladakh mostly look out for the books by our local authors which are very rare. I have come across around 10 books from our local authors in our library.

Q. Which age group does the library cater to? Share us your opinion on the reading habit among people in Ladakh.

This is a public library and it caters to every section of the society. We have books for all ages but yes separate section is not there for the children's which needs to be there. We basically have more students and researchers from different parts of the world who are studying on Ladakh.

Like I said before, reading habit is very weak in Ladakh. Since I am associated with the library from a very long time I have come across few people who actually keep interest in visiting a library and exploring books. Not only books, there is hardly anyone who is interested in reading newspaper. In the library, we subscribe national, state and local newspapers but most of the time we have to keep them in the store without being opened once which is definitely a sad part.

Q. So far how many members are registered with the district library? Is it increasing or decreasing?

According to our records at present we have 600 active members registered with the district library. We have cancelled many old inactive members but yes, among the 600 we still have few who have never used the membership. If, talk about only the numbers of membership than it is increasing.

Q. What is the procedure to become a member of the library?

To become a member of the District library the first and the foremost thing is to fill up a form with all the basic details. Secondly, an attestation is needed from a gazetted officer, this is important because it gives assurance about a person who is becoming a member of the library. The third step is, particularly for the govt. employees. In this, an attestation is needed from the concerned HOD who confirms that he/she is the employee of the department and takes responsibility for a specific time period. Rest who are not Govt. employees should get the form attested by a Gazetted officer.

There is no fee for the membership and the interested can take from the District Library.

Once the membership is done, you can issue books of your interest to read at home for 15 days initially but later can be extended if needed. If unable to produce the book on time late fees can be charged.

In case if the book is lost or misplaced by any of the members they need to bear a fine twice the cost of a lost book. The collected amount is reimbursed to the treasury office at the end of financial year.

Q. What is the responsibility of a librarian?

A librarian has a very big responsibility. The staff needs to watch the library very seriously because many times the books get missed. During our transfer handing and taking over of the library takes place in which re-verification of all the books are done. In this procedure the missing books are cross-checked in the issued register if not found then the cost of the lost books needs to be incurred by the library staff.

Q. What is the timing of the District Library?

It is true that the timing of the library should be different from the rest all other departments. If we talk about round the clock timing it is mostly found in the educational institution which is basically for the reading purpose only. There might be big central public libraries in other parts where the timing is round the clock.

The timing of the District Library is 11 AM to 5 PM in summer, 10 AM to 4 PM in winters and is opened on Sunday from 10 AM to 4 PM. Till now; we have no plans for time extension because it does not become feasible. We have tried it also but got no positive response. Also, for the time extension, we need employees on shift basis but we are already in short of staffs, secondly the climatic condition is not suitable and also there are fewer readers.

Q. How the District Library Leh has seen up gradation over the years. How digitization helps the reader and the librarian.

Since from inception, the District Library has been changed and developed. Once a single room library has now got a collection of 35,000 books and is a double storey. There are enough seating facilities for the readers and a coaching programme for the competitive exam aspirants are also available.

Digitization will definitely help the readers and librarian but unfortunately, we are not fully digitized. This is because to make the library digital we need a staff that has a good computer knowledge which we lack. Many times we tried to make the cataloging or classification system but it is impossible since it takes a lot of time and also needs an expert for that.

Q. Internet service has been a major issue in Ladakh. Given that do you think that digitization could be successful?

Like other parts of the nation, digital library is not successful in Ladakh because the internet facility is poor in our region. Until and unless we don't have a proper and continuous internet service the digitization is not possible.

Q. Tell us about the launch of coaching programme for JEE and NEET aspirants in the library.

The launch of coaching programme for JEE and NEET aspirants in the library has been initiated all over the state. The programme has been launched in Leh on March 9, 2017. It is a complete package of the coaching programme in the form of Tablet, USB and books form for the JEE and NEET preparation which is prepared by the top hundred IIT and medical science experts from India.

The programme was initiated to facilitate students of class 10th and above to prepare for such entrance examination staying at their hometown and without spending lump sum amount on coaching institutes.

If we have proper internet facilities the students can interact with the experts, can take an online assessment test which will be evaluated by those experts.

Q. How many students are availing the benefit from this programme and are it successful?

We don't have an exact number of students who have availed the benefits because we have only 3 to 4 tablets in the library and the student has generally done group studies.

In Leh, it has not been analyzed yet because it is introduced recently but yes in other districts of the state it has a very positive response. Students from Jammu and Kashmir have bought the tablet through the library at a very concessional rate. It is also found that there are few girls who have taken this benefit and has scored above 80 percent in the entrance examination.

Q. The library has been widely campaigning to bring reading and writing habits among students. Is it successful?

We have been stressing to promote reading and writing habits among students and have launched a campaign on the importance of imbibing reading & writing skills for the students on May 25, 2017, at Boys Hr. Secondary School, Leh.

The vision is to make the students aware about the importance of reading and writing habit and to encourage future authors and writer from Ladakh which is in very much need. Also this year on July 15 we have organized a month-long campaign on the theme National Mission on Reading in collaboration with P.N Panicker Foundation.

Reading and writing habits won't come abruptly in one's life it needs to be developed.

If we talk about how successful, we can't say how many of them have started this habit in their life but yes they have been informed about its importance which is very important I guess.

Q. What role a school and a family can play to develop reading and writing habit among the children at a very young age?

Reading and writing habit needs to be developed at a very young age. School and family definitely play a very crucial role in inculcating the habit because in our society not only students but well educated and highly officials also don't have the habit of reading and writing. This is because we only stress on academics to score good marks but never actually focused on learning and getting informed out of academic books.

From a very young age, children need to be informed about the importance and value of books. Encouraging them reading and writing beyond academic learning will enhance their creative skills. Engaging them in reading books also help in keeping the students away from anti-social activities.

Q. What kind of challenges do you face in terms of availability of books and facilities?

One of the challenges we face is tracing missing books. In most of the cases, people do not return the book. As per the past records, a total of 300 members have not returned the book till now. Some are untraceable now because the detail provided is insufficient and for others we gave reminders. There are many officials who have taken the books but not yet returned. Tracing them is very difficult as they have been transferred and posted in other parts.

To avoid such issues, I feel, books are mostly used by the Govt. employees and officials and left unreturned as they get transferred and posted. Thus, a system of No Objection Certificate procedure during the transfer or retirement needs to be introduced to protect or keep the collection of the library intact.

Secondly, the library shelf or the facilities for the display of books is almost nil. The books are kept double on a shelf which shouldn't be there. The single shelf is very important because it helps the readers to identify the required books easily. In a double system, the backward books are mostly left unexplored and are lost for the readers. Space constraint has compelled us to keep the books piled up in every corner.

Thirdly we don't have enough infrastructures. A facility for the people with disability is absent and also no children section is there.

Fourthly, we are in short of funds.

Q. Do you have any plan to upgrade the library? What are the other future plans?

Yes, we do have plans to further upgrade and provide every possible facility. There are three main things on which we are planning.

• Infrastructure development is the prime thing. A proposal for the four-storey building has been already submitted.

• To develop a separate children section. We do have books, documentaries, and films specially for the children but don't have space specified for them because for children the place needs to be very attractive.

• A facility for the people with disability such audiovisual service etc. is again an important plan on which we are focusing on.

Message to the readers

Reading habit needs to be inculcated from a very young age. We should take them once a while in libraries which will surely help in learning more and their interest in books.

The library is to use and take benefit from all the books it is not a place just to store and display books. There is a need in our society to develop reading and writing habits among everyone. Please inculcate the habit of reading newspapers, magazines and books.