Three organizations jointly celebrates International Yoga Day
By
Padma Angmo
Choglamsar, Jun 26, 2015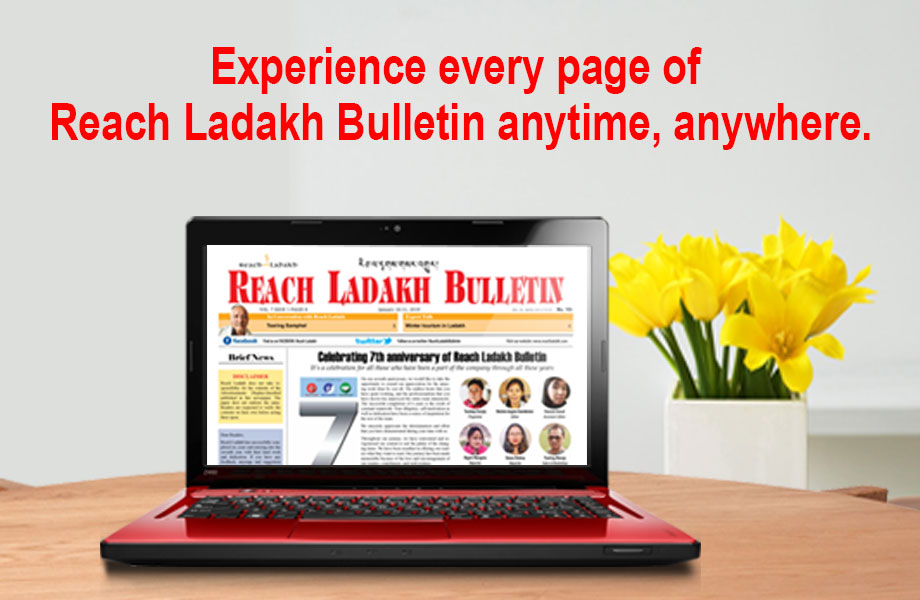 Choglamsar :
The first ever International Yoga Day was being celebrated throughout the world, likewise in other parts of the world Mahabodhi International Meditation Centre in collaboration with Nehru Yuva Kendra Sangathan & Ministry of Youth affairs & Sports Govt. of India also celebrated this day on 21 June at Mahabodhi Residential School.
The Chief Guest R.K Badiyal, (KAS) Additional Deputy Commissioner Leh, Tsering Gyalpo, Additional SP as a guest of honor was present on the occasion.
R.K Badiyal initiated the event by lighting the traditional lamp and the invocation song was sung by students to make the day more delight and inspiring.
Yoga expert, Puja from Haridwar and Mike from Germany lead the yoga program.
The main objective of celebrating ''the world yoga day'' was to connect the people with nature. Practicing yoga to make the people aware how important it is for our health & to reduce the rate of challenging diseases which spreading all over the world, to bring communities much close together to spend a day for health from their busy schedule to enhance growth, development and spread peace all over the world etc.
Ven. Nagasena, General Secretary MIMC addressed the welcome speech in which he mentioned that our Prime Minister Narendra Modi proposed this day to be adopted as an International day of yoga. He also added that United Nations General Assembly has declared 21st of June as an International Yoga Day on 11th of December in 2014.
"Celebrating and practicing yoga on this particular day is not enough, that's why for full physical & mental development it is necessary to adopt yoga in our daily life and on another side we also lead spiritual and purposeful life" he said.
R.K Badiyal congratulated that Govt. of India had selected MIMC from Leh District to celebrate this mega event. He also emphasized that yoga is very necessary and beneficial for all human beings if it is practiced by all on a daily basis early in the morning.
Earlier, Tsewang Dolma, Principal of Mahabodhi School expressed that in our own country 1 Lakh NCC Cadets and 9 lakh Armed Police forces performed this day at their own respective places. Many NGO's of each District of over 650 districts of our country had been invited to celebrate this day. In Leh district, MIMC had been selected to celebrate this mega event by Govt. of India.
Yoga in India is considered to be around 5,000-year-old mental, physical and spiritual practice. Yoga was originated in India in the ancient time when people were used of meditation to transform their body and mind.