Sparsh Leprosy awareness campaign carried out in Leh district
By
Reach Ladakh Correspondent
Leh, Feb 07, 2019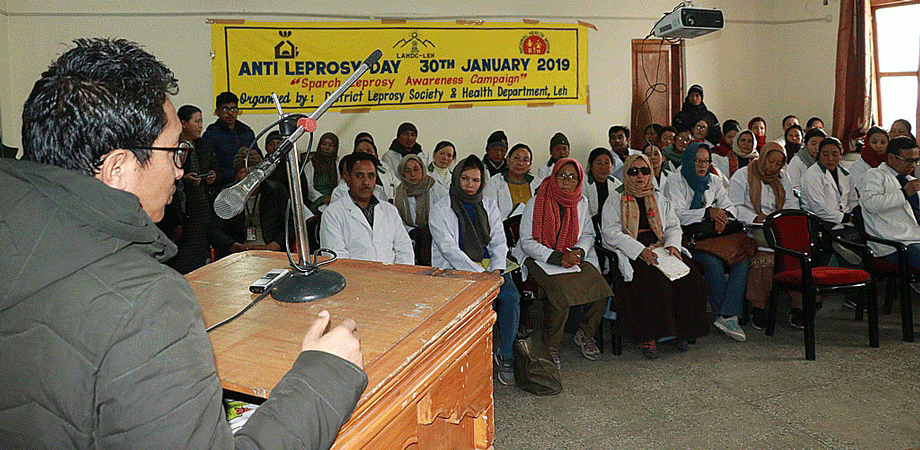 Leh :
A 15-day Sparsh Leprosy awareness campaign was launched on January 30 at SNM Hospital. It will be conducted across the district to reduce leprosy-related disabilities and stigma and discrimination faced by leprosy affected patient in the society. 
Jamyang Tsering Namgyal, CEC extended gratitude to the health functionaries for their dedication and successfully carrying out health campaigns from time to time. He said such initiatives will help in preventing many diseases in the region. 
He strongly urged the doctors and experts to disseminate all-important preventive measures and information about diseases among the people in simplest Ladakhi language for a better understanding.
He further appealed Councilors and Panchayat of respective areas to cooperate Health Department in carrying out such campaigns successfully across the district.
Elaborating the aim of the campaign, Dr. Motup Dorjey, Chief Medical Officer, Leh said that the main thrust of this campaign is to promote community participation to reduce stigma and discrimination against leprosy, enhance early case reporting and reduce leprosy-related disabilities. Also, it aims in communicating the importance of early detection and treatment of leprosy.
He further added that observation of this programme in commemoration with World Leprosy Day also aims to fulfill the dreams of Mahatma Gandhi to create a Leprosy Free India.
To carry out the programme in a result-oriented way, all the health workers were trained.
Meanwhile, the programme was also held at all the block headquarters.