SECMOL celebrates 30 years of success with Satya Pal Malik, Governor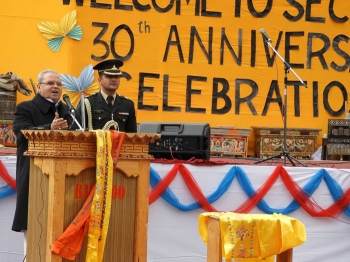 SECMOL celebrated its three decades of success in improving the system of education and dropout youths on October 11 at SECMOL Campus, Phey.
Satya Pal Malik, Governor, presided over the 30th-anniversary celebration of SECMOL, as chief guest.
Satya Pal Malik appreciated Sonam Wangchuk's effort to demonstrating how civil societies can collaborate with governments and village communities to improve public services like education for lasting impact.  Also, creating an environment to keep youths connected with the roots while upholding the values of culture, tradition and moral education.
While talking about the importance of youth for nation building he also talked about the Kashmir problem and said, "We want to kill terrorism, not terrorists. The problem of Kashmir can only be solved by dialogue with youths of the valley, which are a nursery for terrorism. We are making an effort to build trust among youth and generating a positive platform for dialogue. We have to create an alternative space to engage them. They are very good at sports especially cricket and football and we are coming up with international stadiums in the valley to promote the talents of youths."
Sonam Wangchuk, Founder, SECMOL highlighted the works and activities of SECMOL.  He talked about Operation New Hope, working with communities, government and teachers and introduction of books based on local things and people. These initiative brought changes in the education system and overall development of youths.
Talking about upcoming Himalayan Institute of Alternatives, Ladakh (HIAL) in Phyang, he said, "Once started not as an NGO but as a Social Enterprise to improve the failure has come a long way. Many lives are transformed through experiential education and become successful not only in Ladakh but at a higher level. So in these years, we witnessed that these students who fail in the academic education can do a lot through experiential education. Keeping that in mind we decide to start a university HIAL which is totally based on providing skill-based education and hands-on experience." 
Konchok Norgais, Director, SECMOL briefed about the SECMOL campus. He said, "The campus is run by the students themselves like a small country with their own government. They elect the campus chief through a proper democratic process who then appoints work and academic ministers. The activities of running the schools are divided into 32 departments including, gardening, maintaining solar devices, compost toilet, running the monthly campus newsletter, radio and video news etc and all these are handled by the student as a part of the experiential learning."
Gitanjali, JB Founding Member, and CEO of Himalayan Institute of Alternatives, Ladakh (HIAL) said, "In India, 50 percent populations are of youth under 25 years that means we have the resources of mind, heart, and hand. So how talented and skilled our country would become if these youth are given the right kind of education which trains and empower them to design, make and come up with a solution which is indigenous, creative and innovative. HIAL aims to do that in the context of Ladakh and the mountain. It aims to produce the graduates and educated youth who are aware of the context of mountains and are empowered and skilled with the right tools through experiential education."
M.S Sumbli, Rector, Kashmir University Satellite Campus, Leh also spoke on the occasion.
A memorandum between Himalayan Institute of Alternatives, Ladakh (HIAL) and Kashmir University and a memorandum between HIAL and J&K Bank for coordinated efforts and financial assistance in the running of the University in Phyang was signed. 
Meanwhile, scintillating culture performance was also showcased. A skit of 1988 was presented on the occasion by the same artists.