Ladakh Festival to commence from September 22 in Leh
By
Reach Ladakh Correspondent
LEH, Sep 21, 2018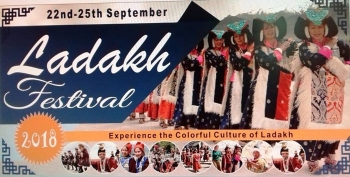 LEH :
Like every year, with an objective of lengthening the tourist season in Leh and to promote the cultural heritage of Ladakh, the four days Ladakh Festival is going to commence from September 22 to 25 in Leh.
Ladakh Festival is jointly organised by LAHDC, Leh and J&K Tourism Department.
Villagers from Nubra, Changthang, central Ladakh and Shaam regions will come in their traditional attire to participate in the 4 days Ladakh festival. As per past practice, this year also Ladakh Festival will begin with a colourful procession of cultural troupes from all part of the district and school children performing on traditional musical orchestra starting from Karzoo through Leh market that finally ends at Polo-ground, Leh.
The schedule of the four day Ladakh Festival are:
FIRST DAY

Event

Time

Venue

Cultural procession followed by inaugural function

9:00 am

Karzoo and Polo ground

Photo Exhibition of Birds and mammals of Ladakh by WCBCL (Ladakh Bird Club)

10 am to 4 pm.

Main Market, Leh

Art Exhibition on theme: Birds of Ladakh and archival photo exhibition

10 am to 4 pm.

LAMO Centre, Kharyog, Leh

Talk series: Sustainable/rural tourism/spirituality and environment

2 pm

Screening of films/documentaries on Ladakh

3pm

Live demonstration of contemporary sculpture and exhibition

2 pm to 5 pm.

Onpo House, Kharyog, Leh

Folk singing by veteran folk artists of Ladakh headed by renowned folk singer Tsering Stanzin

4pm

Lonpo House, Kharyog, Leh

SECOND DAY

Inauguration of mask dance (chaams) performance and Thanka exhibition

11 am to 2 pm

Chowkhang

Vihara in Leh main market

Demonstration of paragliding by Stanzin Sonam (solo pilot)

Warila/Zingral

Inauguration of Handicraft exhibition and food stall exhibition

2 pm

Leh main market

Inauguration of Archery competition

2:30 pm

Municipal Committee, Balkhang Park, Leh

Inauguration of Polo match

4 pm to 6 pm

Polo-ground

Music concert

6 pm

Leh main market

THIRD DAY

All the above mentioned events will be conducted at same venue and time

LAST DAY

The concluding function of Ladakh Festival will be held on September 25 in Leh market near Masjid followed by music concert at 6 pm.
During Ladakh Festival all the government employees have been asked to come in traditional dress and general public is also requested to wear traditional attire during the festival. It is a day for every Ladakhi and specially for tourists to experience and enjoy the cultural richness of Ladakhi tradition at one place during the festival.