Governor confers awards to MC, Leh in 3 categories
By
Reach Ladakh Correspondent
LEH, Oct 15, 2018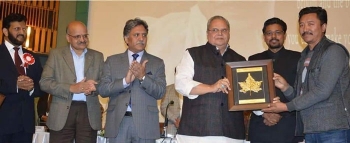 LEH :
Municipal Committee, Leh has been awarded in three different categories by the Governor J&K, Satya Pal Malik on 2 October at SKICC, Srinagar.
In the first category MC, Leh was awarded for making Leh the first Open Defecation Free City of the state. Other two categories were Cleanest City Award during Swachh Survekshan and Best Performance Award in Swachhata Hi Seva, 2018.
Rigzin Spalgon, Administrator MC, Leh on this achievement of the department has expressed gratitude to the entire team of MC Leh and the sanitation workers in particular for their efforts and sincerity in performing their duty and responsibility.
He has also expressed deep gratitude to the general public of Leh town for extending their cooperation to the department in keeping Leh town neat and clean. He said that with such collective efforts and self-consciousness in ensuring cleanliness, Leh will get more recognition with such awards.