Campus Diary: Government Polytechnic College, Leh
By
Stanzin Dasal & Urgen Lhamo
Leh, Aug 29, 2018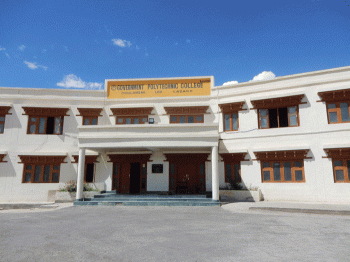 Leh :
To bring changes and empowerment among youths through technical education, the Government Polytechnic College, Leh was established in the year 2005 under Directorate of Technical Education, J&K Govt. 
The institute offers three years Diploma Courses in Civil Engineering, Computer engineering and Travel, Tourism and Hotel Management recognized by the J&K government and approved by the All India Council for Technical Education (AICTE).
Student Enrollment: 
Each course has a sanctioned annual intake capacity of 30 students each. At present, the college has 83 students.  In 2018, only 10 students took admission.
Challenges: 
•    The absence of entrance examination centre in Leh is a big issue for the students. Many students fail to appear in the examination due to hefty airfare and closure of national highways.
•    The college is running under staff.  Out of the total 29 total sanctioned staff, only 15 are available.
•    Lack of facilities in the Boys Hostel
•    Absence placement cell
•    Less enrollment of students due to opening up of more and more polytechnic branches in every district of the state. In the  Ladakh, lack of awareness is also a reason for less enrollment. 
•    Meager remuneration for the contractual teaching and non- teaching staffs.
Mumtaz Hussain, EC Polytechnic said, "The present LAHDC, Leh is committed to facilitate teaching faculty in the institute. In this regard, we have extended the engagement period of a guest lecturer. Our effort is to conduct the entrance exam for Polytechnic courses at Leh. Moreover, the incomplete infrastructures of the institute  will be completed soon."
Initiatives:  
•    Awareness on technical education and govt. polytechnic college was imparted among students of different schools in Leh.
•    Academic calendar for Leh initiated for the first time
•    Entrepreneurship development courses for 10 days under the Ministry of Human Resource development was carried out for the students of 6th semester.
•    One month courses each in Computer and Eco-tourism in collaboration with PRAGYA,  NGO.
•    Summer and on the job training for the students 
Activities: 
• Traffic remodeling survey
• Field visit to Grand Dragon Hotel for Travel, Tourism and Hotel management students
• Field visit to Hindustan Petroleum Corporation Limited (HPCL), Phyang for the Civil Engineering students. 
• Cleanliness campaign
• Plantation drive
• Student centre activities are conducted every Saturday in which quiz, debate and other competition are carried out.
Tareq Amin Khanday, HOD said, "There is a need for more awareness among the locals to take technical education as there are less local students in the polytechnic college. With the professional degree and diploma one can be a successful entrepreneur".
"There are a scope and potential in the courses we are offering in this institute, students should explore, learn and establish their own ventures rather looking out for government jobs", he added.
Further plans:
• To pitch organizations for campus placement 
• Annual campus magazine to be published
Students speak: 
"We face problems in terms of faculty. The teachers here are less qualified and we have difficulty in understanding the subjects. We want more qualified and experienced teachers. Secondly, lack of hostel facilities compels us to cook and clean by ourselves. We are students and are supposed to study but it does not happen. There is a need for permanent cook and staffs for the hostel".
"There are no placements after the course; extracurricular activities are not given importance."
Faculty speaks:
"There is a need of entrance examination centre in Leh so that maximum of the locals can take their exams in Leh itself which will further improve the enrollment. Also, more and more awareness is needed to promote and develop the polytechnic college, Leh. Also, more of a permanent local faculty is needed".
"Limited salary for the contractual staffs is also an issue. more intervention of the stakeholders is needed for proper monitoring and function of the institute."