Mother Language Day observed, appointment of 142 Bhoti teachers in Leh sought
By
Kunzang Chosdol
LEH, Mar 05, 2018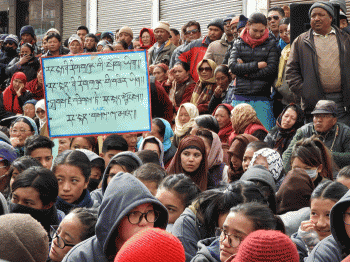 LEH :
Stressing upon the inclusion of Bhoti language in the 8th schedule of the Indian constitution, International Mother Language Day was observed on February 21 at Spalkhar Thoms, (Main market) Leh.
The day was organised by LBA Women Wing in collaboration with the Student's Welfare Association of Central Institute of Buddhist Studies and Student Organisation for Unified Ladakh.
A procession was also carried out from Leh main gate to Chowkhang Vihara, Leh.
Geshes Konchok Wangdus, Director CIBS said, "Many experts say that to sustain human-race, language is the foremost thing. We have examples of vanished human race in China due to the negligence towards language. If we want to sustain our race, we should sustain and uphold our language."
"Using our own language have numerous benefit because it expresses the state of happiness, togetherness and valued relationship in a better way", he added.
Rinchen Angmo, President, LBA Women wing said, "Parents play a very important role, they should focus more on the use of Bhoti language in everyday life. The younger generation should inculcate the habit of speaking in our own language along with other languages."
PT Kunzang, Vice President, LBA said, "Bhoti language is used as a mother tongue by the people of Ladakh. It is the identity of Ladakh and to protect this language there is a need of intervention of political leaders, Hill Council and also by the people by encouraging their children to use it in their daily life."
He informed that a few years back, political leaders recommended the need for 31 posts of Urdu and 142 for Bhoti teacher in Leh. The 142 Bhoti teachers have been inadvertently put under the Kashmiri language teachers in the committee's schedule when there is not a single person who studies the Kashmiri language in Leh district.
He further said, "A total of 34 posts of Bhoti teachers were appointed 30 years back, and since from that no teacher post was created. We demand the appointment of 142 Bhoti teachers at the earliest so that the students may not suffer anymore and also for its inclusion under 8th Schedule of the Indian Constitution."
Rigzin Dorjay, President SOUL said that the main reason behind our language becoming mixture these days is that the people send their children to outside for higher education which makes them neglect and forget our own language. It is sad that in the 10th class examination, the Bhoti language didn't get the due value as other subjects and excluded its marks, which should be changed.
A memorandum was also submitted in the name of Narendra Modi, Prime Minister of India through Avny Lavasa, Deputy Commissioner, Leh.
Ven. Konchok Thupstan, Teacher CIBS, Stanzin Tsetan, Student CIBS, Angchuk Dorjey, Student, EJM College and Dolma Tsering, Student CIBS also spoke on the occasion.