Ladakh Culture Forum focuses on revival of cultural and traditional values
By
Kunzang Chosdol
LEH, May 31, 2018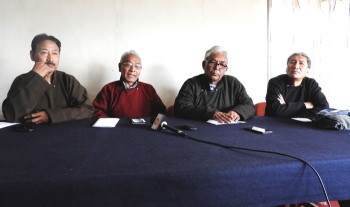 LEH :
LEH: One day after the world culture and diversity day, Ladakh Culture Forum (LCF) organised a press conference to aware people about the importance of Ladakhi culture and traditional values on May 22 at Culture Academy, Leh.
Members of Ladakh Culture Forum strive to create a chance to rethink our losing culture, values, and tradition with modernization and changes.
Encouraging for reviving and protecting the culture, Tsering Norboo, President LCF said, "Our ancestors have passed on the tradition, culture, and heritage beautifully to us and it is our responsibility to pass it on to the younger generation. And the same responsibility also lies towards the youngsters to keep it alive and intact.
With time, we see many changes in the age-old tradition and culture of Ladakh. People should realize the heart and soul of culture and uphold it for the value and identity".
"The language we speak consists of ten science of knowledge through which we can express the exact meaning of every word, speech and think. Even the scientific names explored every day have its meaning in our language if we research it from our religious textbooks."
Modernization and changing lifestyle in Ladakh creates a sense of insecurities towards the fading culture and tradition among some people.
"We are still not late if the action for the preservation and promotion is taken at the right time. The rich culture and heritage can't just vanish at one go but if we fail to take it seriously at the right time then we will surely going to lose it. We need to think and analyze how and where we are heading", Tsering Norboo added.
Mipham Otsal, said, "Every individual in the world needs an identity. If today, we are known to the world it's because of our rich culture and values. Culture is the basic root of any community which gives a way of life and the root of culture is the script and languages of the society. There is a need for preservation and promotion by using in our day to day life".
He further added that change is inevitable and is necessary also. One should know how to carry out the culture and tradition along with modernization and changes that are taking place every now and then.
Reminiscing the past, Morup Namgyal, member, LCF said, "The older generation has passed down the rich culture and tradition which needs to pass it on further and should be taken care of by the next generation. The tourists from all over the world visit Ladakh to learn and explore the rich and unique culture and tradition but seem we are failing to understand. If we fail to pass it on our culture to the young generation and won't work on preservation, then we are surely going to lose it in the future."
He further added that Hill Council is granted to Ladakh on the basis of its unique culture and tradition and today, instead of working for its preservation more focus is given on roads and building construction. Phuntsog Ladakhi also spoke on the occasion.