Kathak Dancer Manju Wazir performs in Leh
By
Stanzin Dasal
LEH, May 01, 2018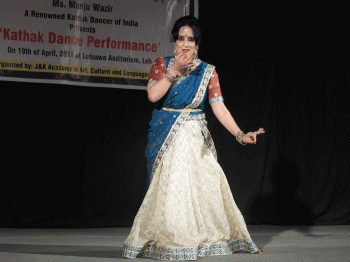 LEH :
A scintillating Kathak recital was performed by Manju Wazir, renowned Kathak dancer from J&K on April 19 at Lotsava Auditorium, J&K Cultural Academy, Leh. The program was organised by J&K Cultural Academy, Leh.
Mipham Otsal, Director, Ladakh Theatre Organization, chief guest briefed about the Kathak dance forms and the prerequisites to perform flawlessly.
Kathak, the ancient classical dance originated from the North India storytellers known as Kathakars who travel around places and tells legendary stories through music, dance, and songs. The Kathakars communicate stories through rhythmic foot movements, hand gestures, facial expressions and eye work.
Ven. Tsering Chosphel, Editor, J&K Cultural Academy welcoming everyone talked about the work of the Academy.
He said, "Over the years we have invited various artists from different parts of the world to showcase their talent in Ladakh so as to know and understand the diverse culture and tradition of the country".
"To witness different dance performance is not only a new experience for us but also a memorable and unique platform for the artist to perform in Ladakh", he added.
Manju Wazir expressed her joy in performing the dance in Ladakh and also emphasized on imparting the skill and knowledge to the people being an artist.A performance on three themes was showcased.
Phuntsok Ladakhi appreciated the performance of the Manju Wazir and urged her to impart training to the youths of Ladakh.
He also asked Manju Wazir to facilitate two students from Ladakh every year in learning classical dance at her dance school in Jammu.
Manju Wazir, the classical dancer from J&K learned under the guidance of Late Pandit Durga Lal and Munna Lal Shukla.
She was felicitated by Red Cross Society for her contribution towards Indian classical dance in the year 2016. She is running her own institute of Kathak dance.