60 children attend Culture workshop in Leh
By
Kunzang Chosdol
LEH, Mar 05, 2018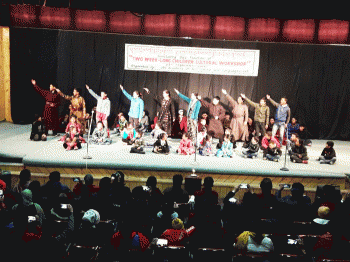 LEH :
A fourteen days long culture workshop organised by J&K Culture Academy Leh concluded on February 27 at Lotsava Hall, Leh in which 60 children participated in the workshop.
On the concluding function of the workshop, Tsering Sandup, EC Tourism was the chief guest.
Tsering Sandup said, "Today most of the parents focus on sending their children to tuition during winter breaks but I feel sending them to this kind of extracurricular activities is very also important because the academic subject is regularly carried on by the teacher at the school. Parents should try to find out their child's talent and skill so that they can motivate and excel in life".
He further said, "Late Dr. Sonam Dawa had the vision and plan to preserve and promote the local culture at various level and I will also try my best to accomplish his dream in this field."
Mipham Otsal, Director LTO said, "In the past decades we somehow failed to deliver our own culture to the younger generation due to incoming of development at large. But what we are today is only because of our forefather, their culture, values and tradition have made us receive such an attention from worldwide. People from world came to Ladakh to witness the culture and tradition, now there is a need to sustain these cultures for the future generation and this is why we organise such workshop, hope the children will carry up these cultures to the next."
Venerable Tsering Chosphel, Editor J&K Culture Academy, Leh said, "It is very important to know the culture and tradition of one's own region and society. Winter break is the best time for the children and to make this break more valuable we organise this workshop each year. Parents should play their role bypassing down the good moral values to their children. They should also make their children use what they have learned from this workshop in their daily life."
Dechen Dolker one of the children said, "We have learned many new things from this culture workshop such as traditional folk songs, sayings, riddles and Ladakhi rhymes. We also learned many good behaviors such as not to lie, drink alcohol and not letting others drink, how to speak with the elders and younger, not to spend more time on TV and mobiles and many more."
Children showcased their talent and demonstrated what they have learned in the workshop. A small skit on the traditional farming practice system in Ladakh was also presented.