14 days Cultural workshop for children starts in Leh
First batch of the workshop with a total of 30 children started for seven days
By
Kunzang Chosdol
LEH, Feb 02, 2018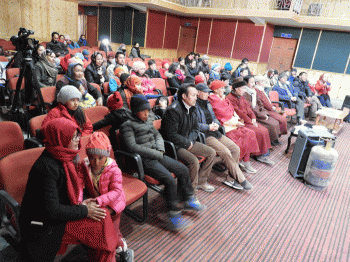 LEH :
Cultural workshop for the children to develop and revive the culture of Ladakh for 14 days was organized by Cultural Academy, Leh on January 25 at Lotsava Auditorium hall.
With a total of 30 children, the first batch of the workshop for seven days was started.
Tsering Angus, EC, Agriculture was the chief guest on the occasion.
Tsering Angdus appreciated the initiative of Cultural Academy and said, "We are failing to pass down our values and culture to the younger generation because of which we see many things such as greeting each other in our own way are declining. Such initiative by Cultural Academy can help a lot in inculcating the valued culture again among the children and reviving it."
He asked children to take all the benefit from this workshop and make use of it in the day to day life.
Mipham Otsal, Workshop Director said, "Till today if we ask ourselves what we have given or passed to our children, then we will find that we have passed over only the things which don't have cultural value including bungalow, car, TV etc. We have not been able to pass which needs to be. The unique culture of Ladakh passed down by our forefather needs to be carried forward and promote it in an actual way".
"Tourist from all corners of the world come to witness these heritages, if not revived, maintained and promoted those values and culture than in the future if someone comes to Ladakh we would have nothing to show because we failed to pass down", he added.
In these fourteen days, he assured to bring in the little part of our culture and root value in the children and appealed parents to polish and develop them at home.
Venerable Tsering Chosphel, Editor, Cultural Academy, Leh said, "The need to organise this workshop is that today we see that with the modernization and development people are becoming so busy in their world that they don't have time to meet their relatives, talk to their children, to have to get together with community as a whole. Having taken this development as a priority, people forget to retain their culture, values, and tradition that has been descended from our forefather. So we organized this workshop especially targeting the children in order to avoid such ignored nature towards our culture in future."
The workshop was divided into two batches and the second batch will start from February 1 to 7.